Stuart Midwinter's decade-long attempt to pedal the circumference of the earth has inspired some generous donations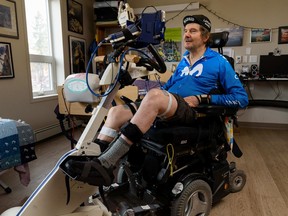 Article content
Calgary cyclist Stuart Midwinter's decade-long attempt to pedal the circumference of the earth has inspired some generous donations that will enable others with spinal injuries to experience the benefits of cycling.
Article content
Although Midwinter was left a quadriplegic after a paragliding crash in 2011, he has been able to exercise his legs on a weekly basis using a functional electrical stimulation (FES) stationary cycle.
Article content
FES bikes use electrical signals to stimulate leg muscles, allowing people with spinal injuries to pedal a stationary bike and exercise their muscles, even if they can't control their legs
Last February, Midwinter recorded his 40,075th kilometre on his FES bike. In under 10 years, he had cycled the equivalent of the earth's circumference at the equator.
In speaking to Postmedia at the time, he noted that he was lucky enough to own his own FES cycle but said public access for other Albertans living with spinal cord injuries is limited to just a few machines.
Article content
After reading about Midwinter's accomplishment, Carol Clenchy said she was inspired to make the technology more widely available.
Clenchy said she and her family are in a good financial position where they are able to give back to the community, and they like to focus on donations that will make a real impact on people's lives.
"We found out a lot more about the bike and Stewart's situation, and the situation of people with spinal cord injuries," she said. "And so that kind of ticked off all the boxes."
Clenchy got in touch with Spinal Cord Injury Alberta, and this week the group celebrated the delivery of a new FES bike.
Shaun Dyer, CEO of Spinal Cord Injury Alberta, said Clenchy was one of two people who reached out after hearing Midwinter's story. An anonymous donor also made a contribution.
Article content
"Philanthropy is all about matching people's passions with opportunities to give and to support, and so that's what we were able to do," said Dyer.
He said between the two donations, which totalled more than $200,000, SCI Alberta was also able to purchase two FES bikes and an Xcite machine, which also allows users to exercise their muscles through electrical stimulation.
Dyer said the new equipment will be able to accommodate about 100 clients per week. Previously they only had one FES cycle that was much in demand.
The group is retiring its old FES bike, but Dyer said it still works and they are looking to pass it on to another organization that is looking to start an FES program.
Dyer gave full credit to Midwinter for sharing his story publicly and meeting with the donors to help them better understand how their donation would make a difference.
Article content
"Stewart came and spent lots of time talking and telling his story to the donors and emphasizing the importance of FES therapy on overall wellness," he said.
Midwinter said he has seen so many health improvements from using his bike, both physical and mental. His leg muscles remain strong, and he still gets a rush of endorphins from the exercise.
Paralyzed Calgary man cycles circumference of the earth on specialized stationary bike

UBC spinal cord research breakthrough team buoyed by $24-million grant

'It's incredible': Paralyzed Broncos hockey player getting upgrade on spinal device
He's said he's grateful to the donors for taking up the cause.
"Because of their gift they're going to make things better for a lot of people," he said. "Those machines, they are in use all the time. And it can be the difference between somebody losing hope or not in some cases."
He has not slowed his cycling regimen since passing the milestone mark in February, averaging about 100 kilometres each week. He said said some people have suggested he set a new goal such as the distance to the moon.
"Going around the Earth is 40,000 kilometres," said Midwinter. "Going to the moon is 400,000. It took me nine years so I guess I'd better keep living for another 90 years."
[email protected]
Twitter: @brodie_thomas