The poll shows 34 per cent of respondents support the Sovereignty Act while 54 per cent oppose it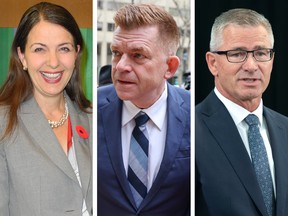 Article content
More Albertans fear having a province run by the three frontrunners in the UCP leadership race than welcome the prospect, states a new poll.
Article content
But NDP leader Rachel Notley also fares poorly, with 52 per cent of respondents in the online Angus Reid Institute poll conducted Sept. 19-22 saying another term with her as Alberta premier would be bad or terrible.
Article content
And her party, according to the poll, trails the UCP by six points – 47 per cent to 41 percent – in Albertans' voter intent.
The survey of 598 adult Albertans suggests perceived UCP leadership contest frontrunner Danielle Smith is seen least favourably among the three top candidates, with 54 per cent of those polled saying she'd be terrible or bad for the province as premier.
Travis Toews, who has the backing of more of the party's MLAs than any other contestant, has a negative perception of 37 per cent while Brian Jean rates 46 per cent.
Article content
Smith's poor showing among Albertans isn't a surprise given her unpopular stances on a variety of issues, including her campaign's centrepiece – the Sovereignty Act which is meant to allow the province to ignore federal laws not in its interest, said Mount Royal University political scientist Lori Williams.
"She said she thinks smoking cures disease, she's promoted using hotels for some hospital patients, she's supported quack cures like hydroxychloroquine for COVID-19 and then there's the Sovereignty Act," said Williams, adding she was referring to Smith's comments in newspaper columns, on radio and on the campaign trail.
"Those kinds of positions are not going to be popular with most Albertans when we head towards an election (next year)."
Article content
The poll shows 34 per cent of respondents support the Sovereignty Act while 54 per cent oppose it.
Williams also said Smith's months-long association with a phone bank contractor she fired this week after videos linking them with racist banter won't sit well with Albertans.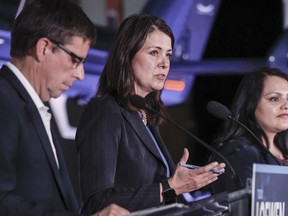 "If Danielle Smith wins, she'll get serious questions on whether she's serious about dealing with racism," said Williams.
Earlier this month, most of the UCP candidates appeared together in Calgary to voice concern that a Smith premiership would cost their party next spring's provincial election, citing the Sovereignty Act as the main reason.
Even so, the poll suggests the NDP, which ruled Alberta from 2015-2019 during an economic downturn driven largely by slumping energy prices, are viewed dimly and trail a UCP given new life by the departure of unpopular Premier Jason Kenney.
Article content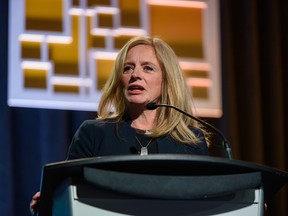 Among respondents, 45 per cent said an NDP government would be terrible, seven per cent believe it would be bad compared to 42 per cent who say it'd be good or great for the province.
"The potential of new blood at the helm of the UCP has sparked a rise in the political fortunes of the party," states Angus Reid.
"(The 47 per cent) marks the highest level of support for the party since before the pandemic."
That result is consistent with other recent polling showing a UCP lead.
The pollster said the jump in the UCP's popularity comes at the expense of the Wildrose Independence Party, whose support has fallen from 15 per cent to 5 percent over the past year.
Braid: UCP leadership race alienated public and may bring defeat, pollster says

'Fairy tales:' UCP leadership hopefuls show united front against Smith's Sovereignty Act

Braid: Government hypocrisy on re-indexing offends all seven UCP candidates
Even so, many observers including some political scientists say the UCP fortunes could dip once they choose a leader, though that would depend on who wins that race on Oct. 6.
Cost of living and health care were the top concerns among Albertans, according to the survey.
As for the UCP leadership race, MRU's Williams said it remains an open question of who will prevail, given there's no guarantee anyone will clinch it on the first ballot.
"It's still something that's very hard to call," she said.
The probability of a randomized survey of this size would carry a margin of error of plus or minus 3 percentage points 19 times out of 20, says Angus Reid.
More to come
Twitter: @BillKaufmannjrn