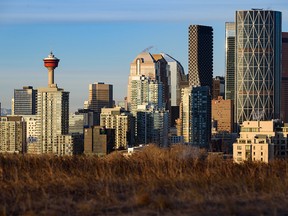 Article content
Calgary will become home to another financial technology company, with Global Shares announcing it will set up its only Canadian office in the city.
Article content
The Irish-based firm, a cloud-based provider of share plan management software, will immediately begin to establish an office in Calgary and create 100 jobs, said Rick Christiaanse, chief executive of Invest Alberta, the province's economic development corporation.
Article content
"This is a large organization and it's just a real vote of confidence for Calgary," Christiaanse said Thursday in an interview.
Article content
"This was a talent challenge. They've looked at a number of markets in North America and spent a lot of time and research trying to figure out where to go — and we were able to successfully land them."
Established in 2005, Global Shares has almost $200 billion worth of assets under administration and was purchased earlier this spring by U.S. investment bank J.P. Morgan.
Article content
Headquartered in Cork, it has more than 700 employees and 17 offices worldwide. Calgary will become its first centre in Canada and third in North America, with other offices in New Jersey and Nashville.
The Calgary operations will include a call centre to support its clients, and Global Shares expects to hire 100 workers locally within the next two to three years.
Article content
Stephen Tabb of Global Shares said the city's growing tech sector, a strong education system and access to skilled employees were all factors in its decision to come to Alberta, as it seeks to grow the business in Canada and North America.
The company has already hired 25 employees in Calgary and expects to look for a permanent downtown office.
"We did look around at a number of different states in the U.S.A., but equally we looked farther afield to Canada," Tabb, the HR director for Global Shares, said in an interview.
Article content
"There is a significant opportunity for us to grow our business in Canada and . . . we wanted to demonstrate to the market that we wanted to come into this market by opening that office in Calgary."
Calgary is already home to a number of rapidly expanding fintech firms, including Shareworks by Morgan Stanley.
Formerly known as Solium Capital, the Calgary-based stock plan administration services firm was acquired by Morgan Stanley in 2019 for $1.1 billion — earning it the rare "unicorn" status. Earlier this year, multinational firm EY announced it would set up its first Canadian-based finance centre of excellence in the city, creating 200 jobs within three years.
Data from Calgary Economic Development indicates more than 40 fintech firms are based in the city, including Neo Financial, which also became a unicorn tech firm earlier this year after a new $185-million fundraising round.
Article content
One of the key issues to grow the sector has been finding enough skilled labour to fill available jobs. The local tech sector has more than 4,000 open postings.
Tech giant Infosys opens downtown office with plans to hire 1,000 workers by 2024

Tech company Sidetrade opens downtown headquarters with plans for 110 jobs

Varcoe: Neo Financial's move into downtown ties Calgary's past to its tech future

Employment growth in the technology industry is driving Alberta forward

Alberta launches international program to recruit tech labour
Christiaanse said talent attraction remains a challenge, but the thriving tech ecosystem is pulling more skilled workers into Calgary.
"We are at a point where people in North America and even in Ireland recognize that we have a great (talent) pool. We need to keep building that pool," he added.
"When you have a significant number of companies in town already, then that automatically attracts more talent."
The province is not providing any incentives to bring Global Shares to the city, he added.