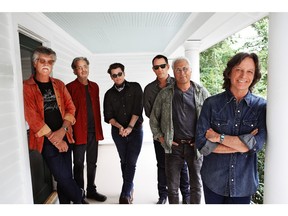 Reviews and recommendations are unbiased and products are independently selected. Postmedia may earn an affiliate commission from purchases made through links on this page.
Article content
Live Nation has just announced two shows, country legends Nitty Gritty Dirt Band on March 31 at the Jubilee Auditorium and dreamy, Toronto-based indie-pop outfit Alvvays at the University of Calgary's MacEwan Hall on March 11.
Article content
Formed in 1966 as a Long Beach, Calif., jug band, NGDB charted its first single in 1967. The first major hit came in 1971 with Mr. Bojangles, which, along with insistent support from banjo master Earl Scruggs, opened doors in Nashville. Behind said doors were Earl Scruggs, Roy Acuff, Doc Watson, Mother Maybelle Carter, Jimmy Martin and others who would collaborate on the monolithic multi-artist, three-album masterpiece: Will the Circle Be Unbroken, which went triple platinum, spawned two later volumes, and wound up in the Grammy Hall of Fame.
Article content
Of course, for many, it's the 1987 hit Fishin' in the Dark that comes to mind when we hear the Dirt Band, and there's never been a Big Valley Jamboree in Camrose since where you don't hear that one several times a day.
Article content
The modern lineup is expanded to six members for the first time since 1968, consisting of founder Jeff Hanna, harp king Jimmie Fadden who joined in 1966, and soulful-voiced Bob Carpenter, who has more than 40 years of service in the ensemble. Those vets are now joined by singer-songwriter bass man Jim Photoglo, fiddle and mandolin wizard Ross Holmes, and Hanna's son, singer and guitarist Jaime Hanna.
Tickets ranging from $39.50 to $69.50 go on sale at 10 a.m. Friday at livenation.com.
Article content
The Juno-award-winning Alvvays, meanwhile, started up in 2011 and has been the darlings of many indie festivals like Coachella and SXSW.
Pronounced "always," the band is Molly Rankin (vocals and guitar), Kerri MacLellan (keyboards), Alec O'Hanley (guitars), Abbey Blackwell (bass) and Sheridan Riley (drums) — they're on tour supporting the just-released Blue Rev.
Besides the new tunes, we'll hear oh-so-cloudy soft-pop hits like In Undertow, Dreams Tonight, Adult Diversions and the beautiful Archie, Marry Me.
This concert also goes on sale at 10 a.m. Friday at livenation.com, general admission tickets are $30 (plus fees).
– Fish Griwkowsky, Postmedia
***
Article content
Eurovision 2022 winner Kalush Orchestra has made its way across the sea with tour stops in both Calgary and Edmonton.
Following their landslide victory at the 2022 Eurovision Song Contest with their stark wartime song Stefania, the Ukrainian band will be performing at the University of Calgary's MacEwan Hall on Nov. 9.
Their performance is part of their first-ever North American tour, which will hit 16 cities in the United States and Canada this fall. Portions of the ticket sales will benefit the Help Heroes of Ukraine and Gate to Ukraine relief funds.
The band was created in 2019 as KALUSH and featured rapper and founder Oleh Psiuk, instrumentalist Ihor Didenchuk, and breakdancer MC KylymMen, but expanded to Kalush Orchestra in 2021, adding three additional members. The group's name is derived from Psiuk's hometown in western Ukraine. As Kalush Orchestra, they focus on blending the genre of hip-hop with original folk elements and motifs of Ukrainian music to create a truly unique sound.
Article content
"The essence is that we take the old Ukrainian folklore that has been forgotten. We dig it out from many generations and add modern, contemporary elements, rap, and instruments," said founder Oleh Psiuk. "In the end, we have a combination of what our ancestors had and what the young people like today. And those are our songs."
The impact of their music is evident, as their Eurovision 2022 winning song Stefania has charted in 10 European countries, and its raw music video has collected over 38 million plays on YouTube to date.
Tickets to the show are available on Bomond's official website (
**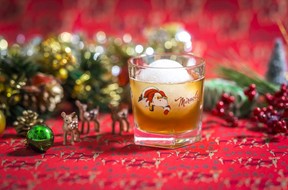 We haven't gotten past Halloween yet but the push is already on for Christmas. Decorations are going up, stores are courting shoppers with gift guides and the snowy weather is adding a not-so-jolly holiday feel.
Article content
So that means it's time for one of the city's popular festive attractions to return. Miracle, the holiday pop-up bar will be back at Proof Cocktail bar from Nov. 16 to Dec. 24. The holiday oasis will be loaded with over-the-top kitschy decor and a themed cocktail menu with fan favourites such as Christmapolitan, Christmas Carol Barrel, Snowball Old-Fashioned, Yippie Ki Yay Mother F****r!, Jingle Balls Nog, Nice Shot, and Naughty Shot. New this year is the Santa Little Helper, Christmas Cricket, Holiday Spiked Chai, and Grandma Got Run Over By A T-Rex cocktails.
Miracle will donate 10 per cent of all proceeds from the sale of Santa Pants, Christmas Carol Barrel and Santa Heads signature glassware to the Seva Foundation, a global nonprofit eye-care organization.
Miracle on First Street (at Proof Cocktail Bar) will be located at 1302 1st St. S.W.