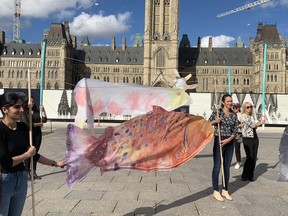 Article content
Governments in Canada must step up and do more to protect ecologically important lands and oceans as climate change and habitat loss continue to pose serious threats to wildlife across the country.
Article content
That's the message a nature charity took to Parliament Hill on Wednesday, complete with an art installation consisting of large depictions of at-risk species.
Article content
The Canadian Parks and Wilderness Society (CPAWS) commissioned the installation, in particular, to hold the federal Liberals to account for the party's election promise to preserve 30 per cent of Canada's land and oceans by 2030, said the group's executive director, Sandra Schwartz.
"It's not just about getting commitments from governments. This is plausible if governments step up and recognize that conservation of nature is equally as important as climate action," she told this newspaper.
Inuk artist Parr Etidloie and visual artist Patrick Thompson of Wakefield, Que., designed the installation, which profiles four at-risk Canadian animals: the orca, the Atlantic puffin, the trout and the caribou.
Article content
Thompson said his inspiration came from his own travels across Canada, from seeing a herd of caribou in Nunavut, to trout jumping up the Mackenzie River.
"I think everyone, at one point or another, needs to leave the concrete jungle and experience this for themselves because it's so easy to get out of touch with nature.
"I live in Wakefield and it's super windy in the valley, so it's a good testing site for giant puffins," Thompson explained, noting that originally the art piece had been far more rigid in design, with bamboo supports attached.
"When the wind blew, the bamboo was too visible, so I went back to the drawing board."
In the end, he decided on a simple, stainable fabric that he could sew and paint, and attached the final piece with string to two wooden poles so that it could be held out like a banner.
Article content
When reached for comment, Environment and Climate Change Canada said the federal government has to collaborate with partners to reach the 30 per cent target because the "land available for conservation and protection are under diverse jurisdictions.
"Protected and conserved areas are therefore established in close collaboration with Indigenous peoples; provincial, territorial, and municipal governments; non-government organizations; philanthropic foundations and the private sector. Canada is rallying all partners to galvanize efforts towards the target of protecting 30 per cent," department spokesperson Samantha Bayard said in an email. 
She added the federal government is developing a domestic biodiversity strategy and action plan, in "collaboration with provinces, territories, Indigenous representatives and other stakeholders, covering all areas of nature conservation and sustainable use."
Article content
Schwartz, meanwhile, said she could not have been happier with the art installation.
"The trout is easily my favourite of the four. The colours just pop and I really like how much bigger it is than the orca."
CPAWS plays more than just an advocacy role in the push to conserve Canada's natural spaces. The group has helped protect half a million square kilometres of land and ocean throughout the country, Schwartz said, with the next step being linking them together.
"In Banff National Park there are these wonderful things called wildlife overpasses, which encourage animals to cross over highways via these routes. Ideally, we'd have these all over the country, passageways that connect our pockets of green space, because animals are wild and don't live in the same space all the time."
Provincial housing plan would shake up how Ottawa develops — and some see cause for concern

Texts show feds were discussing invoking Emergencies Act one week into 'Freedom Convoy'