The site at 665 Albert St. sits between the city's new Ādisōke main public library, now under construction, and the Pimisi LRT station
Article content
The city's planning committee gave the green light Thursday to two high rises on LeBreton Flats, the first residential developments in 15 years on the troubled jewel-in-the rough property on Ottawa's downtown edge.
Article content
The new towers by the group Dream LeBreton will stand 31 and 36 storeys and were designed by Perkins&Will and KPMB Architects. Combined, they will have a total of 601 rental units, of which 247, or 41 per cent, will be designated as affordable.
Article content
The site at 665 Albert St. sits between the city's new Ādisōke main public library, now under construction, and the Pimisi LRT station.
In approving the project, the planning committee granted the builder an exemption to height limits that cap towers at 25 storeys. That decision must still be approved by city council, but Dream LeBreton was given the go ahead by the National Capital Commission last January.
Dream LeBreton bills the development as the largest net-zero carbon residential community in Canada, thanks to its "high-performance building envelope", integrated solar panels and "natural daylight harvesting" using the towers' orientation and sloped roofs to maximize solar energy. The design also taps into the Albert Street sewer trunk as a low-carbon energy source, leveraging the fact that the sewer is warmer in winter and cooler in summer to moderate the buildings' temperature, said Justin Robitaille, Dream LeBreton's VP of development.
Article content
The buildings will have 202 parking spaces for cars and 742 for bicycles. Each tower sits on a six-story stepped pedestal with commercial and community spaces.
Construction is expected to start next spring and the first units could be available for rent near the end of 2025, Robitaille said.
The 247 affordable units are to be earmarked for five target populations as defined by the national housing strategy: Indigenous communities; veterans; women and children; immigrants and newcomers; and adults with cognitive disabilities. The non-profit charity, Multifaith Housing Initiative, will own and operate 132 of the affordable units.
The affordable component is based on median income in the immediate neighbourhoods of Westboro, Hintonburg and Chinatown, not a city wide median as used in some other projects, Robitaille said. That means some units will be available for as low as half the regular rent.
Article content
"It's a pretty significant discount," he said.
That's made possible by a forgivable loan from Canada Mortgage and Housing Corporation on the land purchase that will subsidize the company's cost of renting below market rates, he said.
"That helped us really go to new depths of affordability that you wouldn't otherwise see on new rental projects," he said.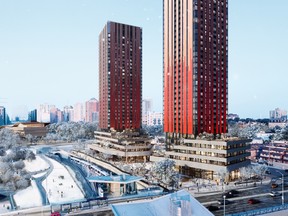 The affordability status is permanent for the 132 units owned by Multifaith Housing, and for 55 years for the remainder. In some other developments in the city, the affordable units have only been guaranteed for as little as 10 years.
Suzanne Le, executive director of Multifaith Housing Initiative, said she's excited because of the possibility of community building at Dream LeBreton.
Article content
"It's the idea that people who are low income shouldn't be isolated or live in little enclaves away from the rest of the society," Le said.
"What's exciting for us is the community we're going to build. Things like yoga classes, knitting clubs, homework clubs and sports clubs — all the programs we're going to build at Dream LeBreton will be for everyone — all 600 units — and not just for our units."
The development also includes a social development component, committing to giving 15 per cent of the overall value of contracts to companies that are at least 50 per cent owned or managed by "equity-seeking groups" including at least five per cent for Algonquin or Indigenous businesses. Similarly, at least 20 per cent of on-site employment hours will be going to equity-seeking groups with five per cent to Algonquin or Indigenous workers.
Article content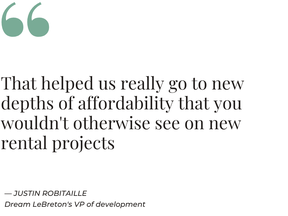 The Dream LeBreton project is another step in the development of the 21-hectare site, largely vacant since it was expropriated and bulldozed in the early 1960s. In June, the NCC announced it had reached memorandum of understanding to lease land west of Pimisi Station for a new hockey arena to be built by Capital Sports Development Inc., a company led by the Ottawa Senators. Work is continuing to develop another residential area across from the war museum that will be known as The Flats District.
A previous proposal for an arena and residential towers known as Rendezvous LeBreton that was fronted by former Senators owner Eugene Melnyk collapsed in 2018 because of a legal dispute between the investors. The last residential development on LeBreton Flats were a complex of mid-rise condos on the eastern edge built in 2007.
Provincial housing plan would shake up how Ottawa develops — and some see cause for concern

Padolsky: 60 years later, LeBreton Flats is a triumph of public policy incompetence