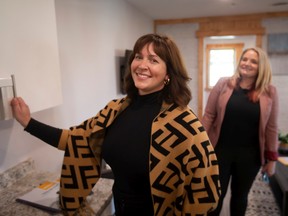 Article content
Canada's first multi-unit 3D printed homes are now move-in ready in Leamington.
Article content
The Bridge Youth Resource Centre received the keys to a fourplex on Sherk Street from Habitat for Humanity Windsor-Essex on Thursday.
Article content
"We're so proud of this community and the partnerships that came together to make this a reality," said Fiona Coughlin, executive director of Habitat for Humanity Windsor-Essex.
"Any time you do the first of anything, there are always challenges, and 3D printing is new — but those first times and the learning we did on this build will be published and be available for every other building coming forward in the future."
It's so exciting to be here today
"We just hope this really makes a difference moving the needle on housing."
According to Habitat officials, the homes are the first 3D-printed homes for residential use in Canada, and the project is the largest build of its kind in North America.
Article content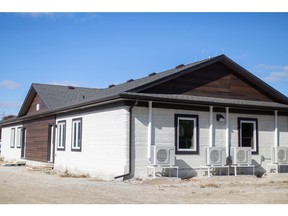 Kingston-based company nidus3D worked in conjunction with University of Windsor civil engineers on the project. The project's research phase began in the spring of 2021.
The unique build was funded by the national office of Habitat for Humanity and by nearly $660,000 from the Canada Mortgage and Housing Corporation's Innovation Fund.
"It's so exciting to be here today," said Krista Rempel, executive director of The Bridge Youth Resource Centre.
"What really stands out to me is those that are willing to come to the table and help us achieve our goal and our dream as an organization."
Exactly who will live in the units has yet to be determined, Rempel said. Her organization works with individuals ages 14 to 24 and delivers programming centred around education, job support, mental health and addiction services, life and coping skills, and social inclusion activities. It also supports those experiencing homelessness or housing instability.
Article content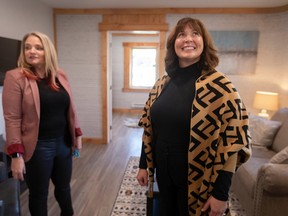 The four-unit build is part of a larger initiative by The Bridge that will see eight units located next door. In addition to that, The Bridge will also oversee 30 homes built on the Sherk Street property.
Whether any of the future units will be 3D printed is "yet to be seen" Rempel said.
New housing rises in Leamington with 3D printing technology

Unique 3D printed home project in Leamington to break ground in April

Family of seven handed keys to new Habitat for Humanity home
"If it's still a good fit, we're open to that. Part of the reason we're here today is to talk about the funding need that we still have in order for us to be able to move forward."
Rempel said the organization needs $764,000 to make those homes a reality and is looking for donors.