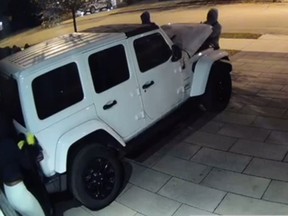 Article content
These five cars were gone in 60 minutes.
Article content
In just one hour, one Toronto neighbourhood saw five luxury vehicles stolen by four car thieves who moved with precision, calm and skill.
Article content
It's like they and the cars — one of which was owned by a Toronto Police officer — vanished into thin air.
What is known is the criminals went shopping for Jeep Wranglers early Tuesday in East York's Parkview Hills and they looked like they had an easier time than if they had just gone to a car dealership.
They drive away with the motherlode.
"Four of the five were Jeep Wranglers," said George Sardelis.
He knows because his was one of them.
"It's shocking when it happens," said the father of two and popular realtor.
It's also shocking how it happens.
Security videos of two of the thefts from driveways offer a real glimpse into the world of stealing high-end or in high-demand vehicles and getting them shipped to the underground, illegal market.
Article content
"It's all very organized. They know what they are doing," said George.
In George's case, there are two women noticeable in the video and one man. In another one, you can see a lookout car drive by.
"All of this is at 2:30 a.m. when everybody is asleep," said George. "We didn't have a chance."
The first thing they did was "pop the hood to disable the horn," said George. "Then they hooked up computers that were in their backpacks to open the doors and eventually get the car started."
In his case, it took eight minutes to take what he has worked so hard for. In his neighbour's case it took just three minutes.
"They look so relaxed," said George. "They don't look worried."
Four Service Ontario employees nabbed in national vehicle theft ring

WARMINGTON: Vehicles in Peel Region are being stolen by the dozen each and every day

New organized crime unit set this week to take on rash of carjackings
Article content
It's like they have done this before. Judging from Toronto Police auto theft numbers, they likely have. Statistics show thieves have either stolen or carjacked 7,122 vehicles so far in 2022, which is already much higher than the 6,572 taken in all of the 2021.
"We've seen a spike in organized crime, particularly auto thefts and carjackings, and it can't be tolerated," East York Councillor Brad Bradford declared Thursday. "These are professional criminals coming into neighbourhoods under the cover of darkness using sophisticated technology to fulfil demand for vehicles in the black market."
It's disgusting that they get to market stolen cars internationally and make a profit while leaving regular, hard-working families without their ride and facing huge insurance issues.
Article content
"It's extremely unnerving to wake up in the morning and find that your vehicle has been stolen out of the driveway — and when you watch the video of the thefts, it becomes clear how brazen these criminals are," said Bradford.
Toronto Police are investigating, but Bradford said other levels of government can't wash their hands of this scourge.
"Our Major Crime Task Force is doing the investigative work to systematically dismantle organized crime, but when you see evidence of stolen vehicles making their way from Toronto to ports in Montreal or Halifax, it becomes clear that this is an inter-provincial and federal issue, requiring a coordinated approach from all levels of government," said Bradford. "More has to be done to keep our neighbourhoods safe."
If it keeps up like this, neighbourhoods may have to take matters into their own hands and form overnight patrols. It can't just be open season for these criminals.
"The police told me they were probably in Montreal by the time we woke up and will soon be on a ship for customers somewhere else in the world," said George.
And Toronto victims are left to take the bus that Canada's soft on criminals society has thrown them under.