Rob Vanstone remembers his last conversation with his father — and tries to explain how their final interaction came to be.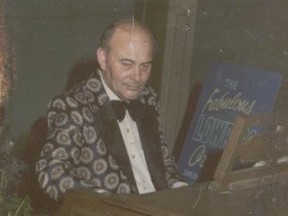 Article content
One question has puzzled me for 40 years — dating back to June 1, 1982.
Article content
The final few moments with my father will always be cherished. The warmth of the brief exchange provides considerable comfort, because we had argued not even 12 hours before a massive heart attack ended his life and permanently altered mine.
Anyway, here is the nagging question: Why did I make him a coffee?
Please allow me to backtrack. I customarily gifted Dad with a cup of coffee, but only if there was something in it for me — in the form of a cauldron-sized tasty beverage.
Whenever I was preparing myself a delicious glass of Goodhost Iced Tea, I would make constructive use of that time in the kitchen by also ensuring that Dad was the recipient of a coffee.
Never, ever, ever, EVER did he get a cup of coffee from me unless an iced tea was part of the equation, self-interest being all-powerful. I was just that way. Teenagers …
So there I was, in the waning minutes of May 31, 1982, heading to my bedroom after a long day. The 18-year-old me was in a surly mood, partially because of a tense discussion with Dad.
I had borrowed the car — a station wagon with a faulty fuel gauge — earlier in the day and had emptied most of the gas from the tank without even thinking of replenishing the supply of precious petroleum.
A few hours later, Dad took the car to an appointment and, a few minutes shy of the destination, the coughing, gagging, spluttering vehicle decided to stop in the middle of the road. For some reason, my father was displeased with this.
When he got home, Alan Vanstone raised the issue with his non-prodigy of a son, who insolently replied: "It's not my fault that you didn't get the gas gauge fixed." (Talk about gaslighting!)
Article content
We spent most of the rest of the day avoiding one another, to the extent that I had neglected to say good-night as he sat on the couch, watching TV.
As I got to my bedroom door, I impulsively, inexplicably performed a 180-degree turn and proceeded directly to the kitchen, whereupon I made Dad a coffee.
When I handed it to him, he looked at me, smiled, and said: "Thank you, Robert."
Those were the last words he ever said to me.
They resonate with me to this day, because I am so glad I made him that coffee. But it was the only time when Dad got a coffee, period.
So what happened? Why did I deviate from a well-established tradition, just that once, at that time?
And what if I hadn't turned around and, instead, proceeded directly to bed? Had that been so, my final interaction with Dad would have been the automotive-related argument. It would still haunt me.
After all this time, I still can't figure out what compelled me to do the 180.
Did I feel guilty about what had happened earlier in the day? Well, maybe, but the 1982 version of Robert Alan Vanstone existed without a conscience, so why would I have picked that occasion to finally do the right thing?
It is the most baffling mystery of my 58 years of dedicated service to this planet.
There is, however, another lingering question arising from May 31, 1982.
The previous four days had been spent on a baseball trip that took me to and from Minneapolis. All Mom and Dad knew, really, was that the Dash Tours-chartered motorcoach would be returning to the Southland Mall some time in the morning.
Article content
Decades before the advent of mobile phones, texting, etc., I had not given my parents any specific information as to the time of arrival.
Yet, the first person I saw when the bus pulled into the parking lot was Alan Vanstone. Dad had been sitting in the station wagon, waiting for me to return, so he could give me a ride home.
There had been other Dash Tours trips. From 1977 to 1981, Mom and I attended every Saskatchewan Roughriders game that was played in Calgary, Winnipeg and Edmonton. I don't recall Dad ever waiting for us in the parking lot when the Moose Mountain bus came to a stop.
Therefore, I didn't have the slightest expectation that Dad would be there at the end of the Minneapolis excursion. It was a chilly morning, so he was wearing a parka — on the final day of May. And on the final day of his life, as it turned out.
I'm not sure that I ever thanked him verbally … but I did give him a coffee.
All these years later, that memory still adds a little sweetener.
(Alan Vanstone's son is the Regina Leader-Post's sports editor.)
The sports world is ever-changing, as are the times. Supplement your steady diet of sports coverage by subscribing to the Regina Leader-Post's 306 Sports Fix newsletter. Each week, sports editor Rob Vanstone will provide additional commentary on the Roughriders, Pats and other teams/sports of interest, along with a peek behind the curtain. Click here to subscribe.