One delegation to council argued that while all the projects are important for Regina, the money was intended for transit and should remain dedicated to transit.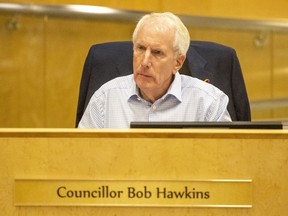 Article content
After three failed amendments, city council ultimately agreed to ask the federal and provincial governments to redirect transit infrastructure money to help pay for a new aquatic centre.
Article content
"This is a council that has for years been fully committed to public transit and I believe will remain fully committed to public transit," Coun. Bob Hawkins (Ward 2) said in an attempt to reassure colleagues and residents that redirecting funds does not mean the city is not fulfilling its transit commitments.
If the request is denied by the upper levels of government, the city has chosen three alternative projects to redirect the money to instead: wastewater capacity upgrades ($90 million), facility retrofits ($14 million) and a package of projects to enhance public transit pedestrian connectivity ($24 million).
Barry Lacey, executive director of financial strategy and sustainability for the city, emphasized that there are a number of other funding opportunities for the alternative projects as well as for transit initiatives, but no other external sources to fund the aquatic centre, which is a priority in the Recreation Master Plan. He said while past experience shows the feds have been reluctant to redirect funding, the city is hopeful it can show Ottawa and the province why the aquatic centre is an important infrastructure need for Regina.
Many councillors agreed, including Lori Bresciani (Ward 4) who argued the Recreation Master Plan came first, but has seen little movement and deserves to be prioritized. No councillor disagreed with the need for the aquatic centre, but many differed in their views on priorities for the $128 million that remains available through the Investing in Canada Infrastructure Program (ICIP), which is funded by all three levels of government.
Article content
One delegation presented to council prior to debate. Carl Cherland argued that while all the projects are important for Regina, the money was intended for transit and should remain dedicated to transit in order to fulfill commitments in the recently approved Transit Master Plan and the Energy and Sustainability Framework.
A written submission from Kathleen Donovan, a member of the Get the Lead Out committee argued the money should go toward the city's lead service connection (LSC) replacement program.
Coun. Andrew Stevens (Ward 3) agreed and moved an amendment to split the funding between the pool and the LSC program, not to fast-track it, but to relieve some of the burden on the taxpayer.
"The lead service connection program on the city's side is funded by an increase to our utility billing model. That is a cost that is distributed across the city regardless of whether you live a community that has LSCs," Stevens said, adding that pressure on the utility will result in increases beyond what has already been planned for.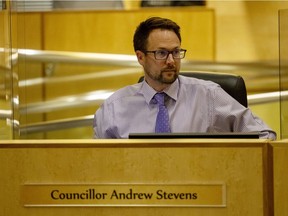 Mayor Sandra Masters argued council knew ICIP funding was an option when it approved the program in May 2021, and so any changes would require a reconsideration motion. The reconsideration motion required a unanimous vote, which it did not receive.
"We weren't actually provided with accurate information about this. In fact, if you go back to the records, several times this was asked whether in public or private if lead service connection program and ICIP were aligned and the answer was explicitly no," Stevens said, adding it wasn't until he approached the feds and the province after the fact that he learned otherwise.
Article content
"If people are fine making decisions with poor information go for it. I think it is too bad that I have to reach out to the federal government myself to fact check these points."
Two other amendments failed Wednesday. One by Coun. Dan LeBlanc to split the money between the projects to enhance public transit pedestrian connectivity ($24 million) and the aquatic centre ($104 million). Coun. Shanon Zachidniak (Ward 8) asked council to skip the pool altogether and instead prioritize the three alternative projects listed by administration as back ups. In the end, council unanimously approved administration's recommendations.
The news seems to be flying at us faster all the time. From COVID-19 updates to politics and crime and everything in between, it can be hard to keep up. With that in mind, the Regina Leader-Post has created an Afternoon Headlines newsletter that can be delivered daily to your inbox to help make sure you are up to date with the most vital news of the day. Click here to subscribe.