"It's nice to not have like a set expiration date on my life anymore."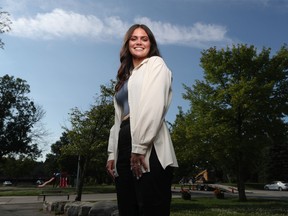 Article content
One by one, Sara Aldrich's dreams are coming true.
Article content
Eight months ago, simply the thought of climbing a staircase without retching and throwing up seemed impossibly far-fetched for the now-24-year-old Stittsville resident and cystic fibrosis patient, never mind becoming a schoolteacher, running a marathon or any of the other notions that might get into the head of a young woman with her whole life stretched in front of her.
Back then, with her lung function at about 40 per cent and dropping, Aldrich's life was uncertain, in length and quality, and planning anything beyond a lung transplant seemed overly optimistic.
That all changed thanks to Trikafta, a drug that's been described as "transformative" and the single greatest development in the treatment of cystic fibrosis, allowing those with the disease to lead lives that would have previously been impossible.
Article content
The drug is not a cure — cystic fibrosis has no known cure — but it dramatically lessens the disease's severity and slows its progression.
Aldrich, who began taking the Trikafta last November, isn't yet ready to run a marathon, but since being on the drug she has run five kilometres without any issues, and, with her lung function in the high 60s, a figure she says she can expect to improve for another year and a half before plateauing, rock climbs almost daily. This summer, she's a director at Camps Canada at Stephen Leacock Public School, the same position she had to leave three summers ago because of her failing lungs.
This fall, she expects to have a teaching position with the Ottawa-Carleton District School Board.
Article content
"Honestly, I can just pretty much do anything now," she says. "I just feel unstoppable. They told me that I probably wouldn't even be able to finish university, and I just completed my second degree.
"It's nice to not have like a set expiration date on my life anymore."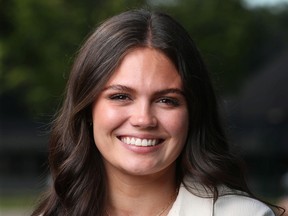 The enthusiasm for life that Aldrich now enjoys is expected to spread throughout Ontario and beyond following the province's announcement last week that it would make Trikafta available to CF patients as young as age six — recipients previously had to be at least 12 — and to ease restrictions on the qualifying criteria, eliminating the earlier requirement that a patient's lung function be at 90 per cent or less, a constraint that prevented an estimated one-quarter of Canadian CF patients from accessing Trikafta. Ending the restriction, says Kim Steele, Cystic Fibrosis Canada's director of government and community relations, will allow many CF patients to apply for the drug for the first time.
Article content
"This is huge for anybody who might have a high lung function, but may have severe digestive issues or a lot of exacerbations," Steele said. "It also opens the door for the six- to 11-year-olds in a way that will slow progression. They may not even experience a symptom of the disease for some time.
"Being able to start children at the age of six is going to mean a very different reality for them than the people who are currently living with cystic fibrosis."
Cystic fibrosis is a progressive , degenerative multisystem disease that affects mainly the lungs and digestive system by creating a buildup of thick mucus, causing respiratory ailments and making digestion and the absorption of nutrients difficult. In 2018, half the deaths in Canada from CF involved people younger than 33.
Article content
Figures from the Canadian Cystic Fibrosis Registry indicate there are about 1,450 people in Ontario with CF, 930 of whom are 12 or older and could benefit from or may already be benefitting from Trikafta. An additional 157 are between six and 11 and could potentially benefit from the drug, provided they can access it through public or private insurance.
In 2020, a study conducted by researchers from Dalhousie University, the Hospital for Sick Children and St Michael's Hospital concluded widespread access to Trikafta would result in numerous health benefits, including an increase in the estimated median age of survival for a child born with CF by 9.2 years, a 60-per-cent drop in the number of people living with severe lung disease and 15 per cent fewer CF-related deaths.
Article content
Roughly 10 per cent of CF patients show no improvement in their condition after taking Trikafta.
With an annual list price of $300,000, the drug is extremely costly, however, and not all insurance providers will cover it. The provinces and territories have negotiated a lower price, but one condition of the negotiation is that they can't reveal the lower price.
Ontario is the first province to lower the availability age and eliminate the lung-function requirement, announcing those changes last Friday. Alberta followed suit on Monday, and Steele hopes other provinces and territories will similarly act soon.
But Steele notes that coverage for the drug can still be a problem in Ontario, the only province, she says, that lacks a safety net for those who can't get coverage by other means.
Article content
But the benefits that more widespread availability to Trikafta may bring to the overall health-care system are enormous, she says, including fewer hospitalizations and transplants.
"There are downstream impacts," she says, "not just to the individual health, but to the system that this decision is going to have. Down the road, we may envision a world where people with CF may not need to go to clinics four times a year, for instance. So we are really very excited by what this might mean for taking some of the burden off of the health-care system and for people getting on with lives that they might never have thought they'd have."
Like the one that Sara Aldrich is enjoying.
"It's nice to hear my family and my friends say, 'Oh, we have the you back that we had before you were so sick,'" Aldrich says. "Because essentially for my whole life I was sick. That's how I identified myself, as someone who was sick and who couldn't live a normal life. But now I can hang out with my friends and be a normal 24-year-old."