Off-island city of 42,000 residents notes that a bicycle is an ideal means of transport for shopping and commuting.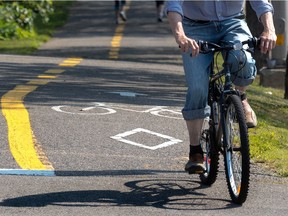 Article content
The city of Vaudreuil-Dorion offers its residents a subsidy to locally purchase new or used bikes — as well as close to 57 kilometres of paved paths within its territory.
Article content
The off-island city of 42,000 residents provides a maximum reimbursement of $50 for a new bike or $75 for a used bike. It also subsidizes 50 per cent of the costs of bicycle accessories, including bags, trailers or baby seats, up to a maximum of $50 per residence. Eligible purchases must be made at a business located in the Vaudreuil-Soulanges MRC. Electric scooters, scooters, or electric bikes are not eligible for this grant.
The city's network of bike paths is highlighted on an interactive map on the municipal website. The city's aim is to encourage residents to use bicycles for shopping or just for a fun ride, and it notes cycling can help reduce traffic congestion and greenhouse gas emissions.
Mayors call for bike path to be built alongside REM tracks

Kramberger: Shrinking lanes fuel car vs. bike wars in West Island