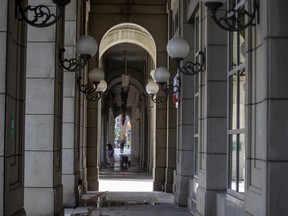 Article content
The Esplanade is one of those gems in the city that every resident should take advantage of at some point in the year. It's the type of place that every tourist should want to visit.
Article content
Instead, over the past two years, it has become a place of increasing crime, public drug use, vagrancy, and vandalism. A friend who has been a long-time resident of the area told me it has gone from a 10 out of 10 to a 1 out of 10 kind of neighbourhood.
As my colleague Antonella Artuso has put it, the downhill slide is due to the woke intentions of city hall.
At the start of the pandemic, when travel stopped and hotels were empty, the city signed contracts to turn several of them around the city into homeless shelters. This included the one at 45 The Esplanade, a hotel I was a frequent guest at for years.
When I used to travel frequently between Ottawa and Toronto in the Sun News Network days, I would stay at this hotel, then branded as a Novotel. It wasn't the fanciest but was quite nice and within walking distance to the old Sun offices on King St. East.
Article content
There isn't a bar, restaurant or café in the area I haven't been in thanks to all that travel. There wasn't a time of night that I didn't feel safe walking the streets including returning to my room after a late-night broadcast.
Things are different now. The area isn't as safe, it isn't as clean, the stench from the area outside as I walked by Saturday morning was unbearable.
The area has changed thanks to the new residents who have brought their own challenges from addictions to mental health issues.
"There's just a lot of unrest and a lack of harmony around here because they are all so mentally unwell. And need more help than the shelter," my friend Nicole said of her new neighbours.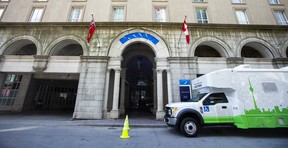 "I feel sorry for them, I feel like they're not getting the help they need," area resident and senior citizen Susan Ferranti told the Sun.
Article content
Both women say they understand the need for housing supports but the situation brought on by this "temporary shelter" that has been extended until April has changed their beloved neighbourhood. The need for private security and added police presence just to keep fires, thefts and other problems under control shows there is a problem.
Supporters of the project say it's unfair to blame the increase in crime on the shelter, but any local resident or business owner will tell you the increase in crime coincided with the switch from having a hotel catering to business travellers to a shelter for the homeless. Toronto police stats also show increases for crimes such as assault, robbery and auto theft in that time.
LEVY: Novotel homeless hotel to cost $8.1 million over 10 months

LEVY: Upscale Novotel to become latest COVID homeless hotel

LEVY: Angry Esplanade area residents get few answers about new COVID hotel shelter
This is a problem created by the city and it is up to them to fix it.
Mayor John Tory has issued a statement strongly in support of this project. Council has voted to extend the hotel's use as a shelter. If they are going to fundamentally change the neighbourhood in this way, they need to also deal with the very real concerns of the existing residents.
The fact that so many problems remain shows that despite the lip service, not enough has been done. Something for voters to consider when municipal elections come around in October.