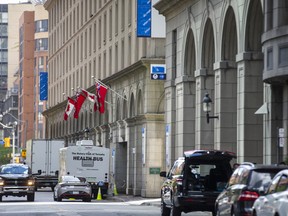 Article content
The road to 45 The Esplanade was paved with woke intentions.
Article content
Yet, some local residents say the reality of the hotel-turned-emergency shelter during COVID-19 was an enabling, urine-scented, theft and vandalism hell.
It was hard for many neighbours to see the good in this project as they watched drug dealers come around to cash in on addiction and then shelter residents taken out in ambulances.
A sudden rise in loitering, fires, broken retail windows — whether shelter residents were responsible or not — for many left the neighbourhood unrecognizable.
Retiree Denise Moore, who lives in a condo near to the emergency homeless shelter, said crime has tapered off slightly in recent days because Toronto Police has stepped up but major problems persist.
"They've set our recycle bins on fire, they were pulling our fire alarms at night, there's open defecation, they perch in our alleyways all strung out and high," Moore said. "Many (businesses) around here have been robbed multiple times, poor mom and pop restaurants."
Article content
Those opposed to the shelter in their midst found evidence that residents were stealing bikes and shoplifting baby food to sell online, she said.
"Even though they have the five-star room with wifi, laundry, catering, I mean it's unbelievable," she said.
Moore said there have been rifts in the community, with some supporting the homeless initiative, but many locals no longer feel comfortable walking home.
The City of Toronto leased the Novotel Hotel at an estimated rent of up to $625,824 to provide physically-spaced homes to people who were incredibly vulnerable, both to COVID-19 outbreaks in overcrowded existing facilities and to the other pandemics, chronic homelessness, a deadly spike in drug overdoses and mental health issues.
Article content
Although 45 The Esplanade was labelled as temporary, an extension until next April has been granted.
Toronto signed contracts with 29 hotels across the city to provide additional emergency shelter and in March had 3,900 people staying in 2,900 rooms.
Lawvin Hadisi, a spokesperson for Mayor John Tory, said the city turned to unused hotels and spaces during the pandemic for alternative housing options.
"Throughout the pandemic there has been an urgent need for safe, indoor shelter for vulnerable people in Toronto," Hadisi said in a statement. "To address the critical neled for shelter and housing, Mayor Tory has prioritized the necessary steps, funding and resources to ensure that everyone in this city who needs it continue to have access to safe, indoor shelter. As a result, the City of Toronto has and will continue to provide safe, indoor shelter to people who need it."
Article content
The shelter on The Esplanade allowed the city to provide safe homes quickly for 250 people in a downtown area where the demand is great, she said.
"The Mayor has heard from local residents around 45 The Esplanade and he takes their concerns extremely seriously," she said. "He has worked to make sure city staff act on these concerns and work with the shelter operator to meaningfully address them. That is why we have put in place proper supports for those living in this temporary shelter and worked to increase security and respond to other community concerns."
The mayor has to provide a safe, welcoming environment for people suffering homelessness and for the community that lives around them and "does not have a choice of sacrificing one of these priorities and responsibilities at the expense of the other," Hadisi said.
Article content
The hotel shelters are still considered temporary and solutions are being sought to provide stable long-term housing, the mayor's office says.
Senior Susan Ferranti, who has documented the large number of incidents in the community, said the shelter residents would have been "more than welcome" if they had respected the neighbourhood.
LEVY: Novotel homeless hotel to cost $8.1 million over 10 months

LEVY: Upscale Novotel to become latest COVID homeless hotel

LEVY: No shelter for convenience store owner
Shelter residents are seen "shooting up," and just this week two men, one with visible sores, were photographed lying in the sidewalk seemingly passed out, she said.
"I feel sorry for them, I feel like they're not getting the help they need," Ferranti said. "They have security but they don't do anything … We now have paid-duty cops down here 24-7. If you need all this security and you need extra cops, something's wrong.
Article content
"(Shelter residents) have services offered to them but they're not forced to take them. Everybody has to follow rules, why not them?" she said.
Ferranti said there are four hotel shelters in the vicinity and local residents fear they will become permanent.
The shelter is operated by Homes First, and a statement from the city says all staff must be trained in harm reduction, overdose prevention and response and also have access to naloxone.
Wraparound support services are available to the residents.
Monitored on-site video surveillance, security personnel doing hourly patrols, community safety teams and 24-hour paid duty officers support security efforts in the area, the city staff statement says.
"Like all Toronto residents, residents of city shelters are free to use their local community and its amenities. And like all residents, they are expected to obey all laws," the statement says. "Violent and/or criminal activity occurring in the shelter or community is not acceptable to the city or its shelter providers. If a shelter resident is found to have acted inappropriately, aggressively, violently or criminally, they will be held accountable for these acts."