Saskatchewan Roughriders quarterback Cody Fajardo was having a miserable game Saturday until he engineered a fourth-quarter comeback win.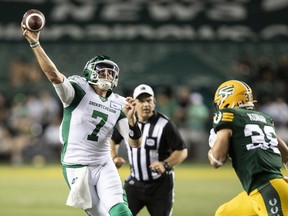 Article content
Cody Fajardo was struggling to complete a pass against a Lion or a Lyon.
Article content
After piloting an anemic Saskatchewan Roughriders offence during a 32-17 loss to the visiting B.C. Lions on July 29, Fajardo returned to action Saturday night and threw his ugliest pass as a CFL starting quarterback — a quacker that was easily intercepted by the Edmonton Elks' Nafees Lyon during the fourth quarter at Commonwealth Stadium.
Lyon's pick and subsequent 31-yard return put Edmonton in position for a 46-yard field goal by Sergio Castillo, who gave the home side a 23-22 lead with 10:34 remaining in the game.
Saskatchewan answered with 12 unanswered points to win 34-23. Such an outcome seemed rather improbable after Fajardo's interception.
At that point, Fajardo had passed for a mere 70 yards while looking distracted in the pocket and without throwing the football with any consistent authority.
Article content
(To that point, Fajardo's best pass of the night had been dropped by Justin McInnis.)
The Roughriders, er, responded to Castillo's go-ahead field goal by erupting for a trademark two-and-out.
Saskatchewan's defence, a robust unit in the second half, forced Edmonton to punt. However, the Roughriders were hemmed in on their 13-yard line with 6:56 left in the game.
On the second play of that possession, Duke Williams was open for what should have been a 76-yard touchdown bomb. However, Fajardo underthrew Williams and a promising play went in the books as a pass knockdown by, of course, Lyon.
Fajardo would have absorbed the lion's share of the blame if his shakiness had persisted and if the Roughriders had somehow succumbed to the feckless Elks.
Article content
But then Fajardo went to work in the timeliest fashion, firing a perfect pass into a tight window. Kian Schaffer-Baker caught the ball for a 22-yard gain on second-and-10.
Three plays later, Fajardo found Williams for a 24-yard TD that proved to be the difference. After Lyon over-ran the football in the front left corner of the end zone, Williams made the adjustment and a tremendous grab.
Rolan Milligan intercepted Taylor Cornelius on Edmonton's next possession. The Roughriders proceeded to capitalize on a six-yard run by Fajardo, whose second TD of the game concluded the scoring.
It wasn't the first time that Fajardo had guided the Green and White to a fourth-quarter comeback victory. He routinely rallied the Roughriders, for example, during his breakout season of 2019.
Article content
That was back in the good ol' days when Fajardo-mania was a thing.
Lately, it has become fashionable to disparage the Roughriders' marquee player. Various commentators have opined in recent weeks that Fajardo is not an elite quarterback.
The "I told you so" crowd must have felt validated for three-plus quarters on Saturday, because a Fajardo-led offence was, save for Saskatchewan's second possession of the game, an eyesore.
Much of the game fit that description, especially when contrasted with the opener of Saturday's doubleheader — B.C.'s scintillating 41-40 conquest of the host Calgary Stampeders.
The Roughriders were very fortunate that their opponent on Saturday wasn't even remotely comparable to B.C. or Calgary.
Article content
Edmonton self-destructed due to its propensity for penalties — some of which were marginal calls, it should be noted — and gaffes such as a lost fumble inside the Roughriders' 10-yard line.
Even so, the Elks were a tough out on Saturday.
Edmonton head coach and general manager Chris. Jones employed a defensive strategy that left the Roughriders' offence looking utterly confused.
(For consistency's sake, the Roughriders employed an offensive strategy that left the Roughriders' offence looking utterly confused.)
The Elks conventionally sent only three pass rushers — against five blockers! — but nonetheless applied consistent pressure.
Even when there was a semblance of pass protection, Fajardo's panicky presence in the pocket was reflective of someone who is expecting a stampede. And who can blame him for being gun-shy?
Article content
With a porous offensive line and a substandard receiving corps, the Roughriders are not going to defeat — or even challenge — West Division foes such as the Lions, Stampeders and Winnipeg Blue Bombers.
As it is, the Roughriders (5-4) have twice been extended to the limit by an Edmonton team that has lost 59-15 and 46-14 to B.C.
The good news for the Roughriders is that that they eventually disposed of the 2-7 Elks on Saturday, thereby snapping a three-game losing streak.
The bad news? The Lions are in town on Friday.
The sports world is ever-changing, as are the times. Supplement your steady diet of sports coverage by subscribing to the Regina Leader-Post's 306 Sports Fix newsletter. Each week, sports editor Rob Vanstone will provide additional commentary on the Roughriders, Pats and other teams/sports of interest, along with a peek behind the curtain. Click here to subscribe.