One person's trash is bylaw enforcement's treasure after efficiencies found among the city's fleet will see officers get 15 more vehicles to do their work.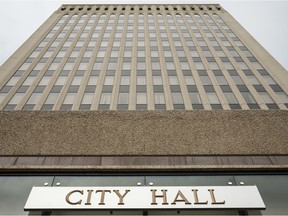 Article content
One person's trash is bylaw enforcement's treasure after efficiencies found among the city's fleet will see officers get 15 more vehicles to do their work.
Article content
"This should be a game changer for the bylaw enforcement areas, this would allow individual officers to have vehicles," Byron Werry, city solicitor for the city, said at an executive committee meeting this week.
Article content
As part of a quarterly update provided by the city's new Transformation Office — established to drive 14 priorities identified through an efficiency review completed late last year — administration noted that 41 vehicles were identified as no longer needed.
By also reviewing fleet replacement requests for the 2023-24 budget process the city was able to reduce the number of vehicles being replaced by reallocating 15 of the 41 vehicles to bylaw enforcement. The remaining 26 vehicles will be salvaged, generating approximately $506,000 in revenue.
Article content
The city also anticipates a savings of $400,000 by eliminating the annual operating cost of 41 vehicles. It will also avoid a capital cost to replace those vehicles at their end of life, at a total of $2.1 million.
Service, performance culture lacking says City of Regina efficiency review

City admin. asks for accelerated funding to implement efficiency plan
"In addition to financial benefits, the reduction of vehicles from our Civic fleet provides environmental benefits aligned to the Energy & Sustainability Framework," the update said. "It is estimated that approximately 25,000 less liters of fuel will be used annually, resulting in a CO2 reduction of 55 tonnes."
The office has also been focused on identifying cost avoidance and savings opportunities by changing the way the city approaches procurement. Further review has found upwards of 40 "prospects" to consolidate purchasing.
Article content
For new contracts, the procurement area has "taken advantage of the Negotiated Request for Proposal process (NRFP)," which has led to higher value contracts, the report said.
Between the NFRP process and the consolidation opportunities identified, a one-time cost avoidance of $1.3 million and an annual cost savings of $120,000 has been found and will be reflected in the 2023 budget.
A long-awaited efficiency review completed in December 2021 identified 53 "opportunities" within six city service areas for an estimated annual savings of $26.9 million.
The consultant's final report honed in on 14 of the 53 opportunities — the wording used in the report — which were found to be of most value, and a manageable starting place. Those 14 represent an annual savings of $17.2 million.
Article content
Top of that list was the creation of the Transformation Office, which was initially to be led by a chief transformation officer. Louise Folk was appointed to the position in March. Just two months later, Folk retired.
In late July, acting city manager Jim Nicol said there was no intention to appoint a new chief transformation officer at this time, but the city did hire Louise Usick, former executive director of corporate services for Saskatchewan's Ministry of Labour Relations and Workplace Safety, as Strategic Initiatives Lead of the Transformation Office.
The news seems to be flying at us faster all the time. From COVID-19 updates to politics and crime and everything in between, it can be hard to keep up. With that in mind, the Regina Leader-Post has created an Afternoon Headlines newsletter that can be delivered daily to your inbox to help make sure you are up to date with the most vital news of the day. Click here to subscribe.