B.C. health officials strongly recommend people get both a flu shot and bivalent booster against the latest coronavirus variants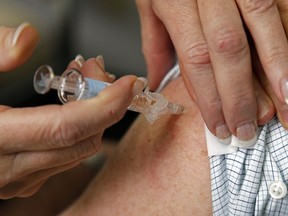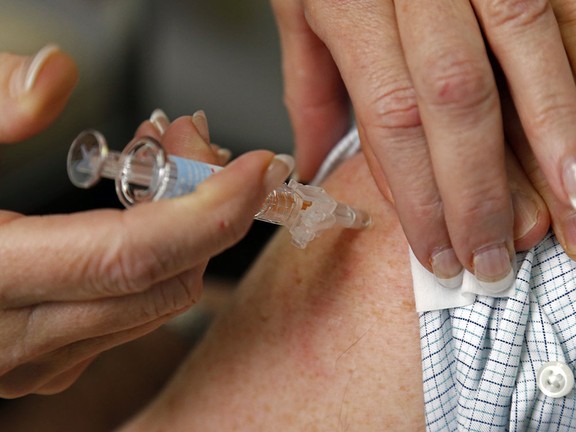 Article content
COVID-19 is far from the only threat to your health — and the health-care system's overall capacity — heading into fall and winter.
Article content
B.C. health officials are strongly recommending people get a flu shot as well as a bivalent booster against the latest coronavirus variants.
Article content
"Getting vaccinated is the best way to protect ourselves and our communities, and we've made it easier for British Columbians to do so," says Health Minister Adrian Dix on Tuesday, as the first supplies of flu shots became available to the public.
"We're continuing to offer everyone free flu shots, and seniors can now get more protection with an enhanced vaccine. To make it even easier, many people will be able to get their influenza and COVID-19 vaccines at the same time."
After two years of low rates of influenza in B.C. because of restrictions on travel, socializing and widespread masking, health officials predict a surge in flu cases this fall and winter. It's also expected COVID-19 cases will ramp up as more people gather indoors and travel.
Article content
B.C. prepares for fall influenza, COVID surge

Avian flu detected at Chilliwack farm
Time for a flu shot is now
Starting Oct. 11, flu vaccines are widely available at no charge at participating pharmacies, health clinics and at some doctors' offices. Seniors and those at high risk of severe illness have been able to get their shot since Oct. 3.
If you're registered in the Get Vaccinated system, you should automatically get an invitation to book a flu shot, a COVID booster, or both. Walk-ins are also available, or you can call 1-833-838-2323 to make an appointment.
Provincial health officer Dr. Bonnie Henry notes flu vaccines are more important than ever after two years of health restrictions that limited people's exposure to the nasty bug.
Article content
"Getting vaccinated against influenza is especially important this year as our immunity against the virus has waned following two years of low influenza rates," says Henry.
Officials north of the equator watch what happens during the fall and winter in the Southern Hemisphere to help predict the type and severity of flu season here. That evidence shows the season started earlier and was more widespread this fall-winter than it was in 2020 or 2021.
An enhanced flu shot — the Fluad trivalent adjuvanted vaccine — is available to all people 65 years and older for free. It provides better protection than a standard dose for those most at risk of severe illness and complications due to a natural weakening of the immune system with age.
Article content
B.C. will have available 1.8 million doses of flu vaccine in 2022-23, including more than 660,000 of the enhanced doses.
"Almost 1,300 community pharmacies across British Columbia are offering flu shots," says Jamie Wigston, president of the B.C. Pharmacy Association. "With both the COVID-19 vaccine and flu, we anticipate pharmacists will deliver three million vaccinations to British Columbians this season."
More information about the flu can be found at the B.C. Centre for Disease Control website.
For more health news and content around diseases, conditions, wellness, healthy living, drugs, treatments and more, head to Healthing.ca – a member of the Postmedia Network.