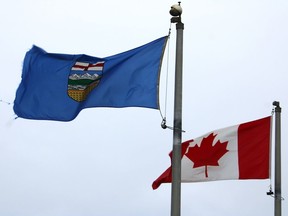 Article content
Fresh air from Smith and Poilievre
Article content
Re: One of these days, we'll resist the manipulation, Opinion, Oct. 7
Article content
George Brookman nailed it in his column on ideological infringement and social engineering (hello, Justin), and where our money is spent. I believe, when Conservative Leader Pierre Poilievre and Alberta premier-designate Danielle Smith talk about "freedom," it is these types of oppression they want to curb, as opposed to championing the Trumpian mob-style challenges to the rule of law.
I, for one, think both Smith and Poilievre might bring some fresh air into our stultifying political arena. Rather than buying into the fear-mongering of their opponents and certain media, why not keep our minds open and see what they can do?
Randy Byrne, Calgary
Article content
What is going on in Alberta?
I'm from Alberta and I sure don't understand what is happening there! Conservatives say they hate socialism so they choose a leader who would start to enact policies to combat creeping socialism and get a more favourable deal for Alberta even if that includes possible separation from Confederation. In the meantime, the new leader will gladly accept the more than $17 billion worth of new pipeline facilities provided to them by Canadian taxpayers. Alberta oil companies will also be happy with this additional subsidy from Ottawa even while small businesses across the country struggle to survive.
Is this all some sort of new Alberta socialism in disguise? It sure isn't the conservatism I learned about at business school in Alberta.
Article content
Doug Taylor, North Vancouver, B.C.
Same old same old
Re: Premier Smith introduces herself in news conference – a bit early, Braid, Oct. 4
Danielle Smith claimed the Conservatives lost under Jim Prentice because their election was a snap one. Wrong. Other Conservatives thought that Albertans had converted to socialism or the NDP, and hence their panicky need to unite the right. Wrong again.
Back when I read about their scandals and stupidity, I voted the Conservatives out of power for their own good. They needed time to pull up their socks and deal with their ethically challenged members. But instead, they took their eye off the ball and wasted four years by being distracted by uniting the right. Such a stupid plan, since Albertans had never converted. I better give the Conservatives a second chance by voting NDP again.
Article content
Kenney never saw Alberta's prosperity
Re: The gig is up: Kenney set to step down from role, Oct. 3
Monday's article provided a Premier Jason Kenney quote: "In order to be a compassionate and generous society, you must be a prosperous one first." 
Unfortunately, he was unable to recognize that Alberta is — and has been for a very long time — prosperous. You can be compassionate without wealth.
In 2020, Alberta had the highest after-tax median family income of any province. Meanwhile, in 2020, Kenney tore up the legal contract governing doctors' pay and continued the UCP's attacks on health care and education professionals, effectively damaging the delivery of the two primary responsibilities of any provincial government: health care and education. Because, apparently, the wealthiest province in Canada wasn't prosperous enough to meet these responsibilities.   
If you're above that median level of income, the kids have probably left home and cuts to education don't impact you as much. Similarly, you've most likely established a relationship with a family doctor and have more flexibility in paying for health care and a healthy lifestyle. But the UCP wants you to be even wealthier before they'll cancel the Kananaskis Pass fees or quit driving doctors out of Alberta's health-care system.
Blindness, arrogance and ignorance have become characteristic of the UCP and their predecessors, and I see no change in that attitude as Kenney's replacement was selected.
Doug James, Calgary
Olympics is antithesis of environmentalism
Re: New Olympic bid for Alberta is 'possible', Oct. 5
I am confused about our mayor being all giddy about our city bidding on something as environmentally damaging as the Olympics. The construction, the people, the transportation, the feeding, the heating or air conditioning. Has our mayor not heard that Calgary is in the middle of a climate emergency?
Darrell Young, Calgary