The warning labels placed by Health Canada on ground beef and pork can help consumers make healthier choices, writes Mac Findlay.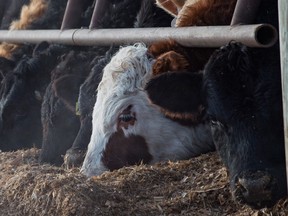 Article content
Meat labels can mean better choices
Article content
Last week, a debate was sparked regarding Health Canada's decision to place warning labels on ground beef and pork, to inform consumers of these products' saturated fat content. Provincially, both the NDP and the Saskatchewan Party are opposing this decision.
I write not to invalidate both parties' concern for the livelihood of the families and farmers of this province amidst rising inflation, but rather to offer some points in this debate that I believe deserve more attention.
Namely, with hundreds of millions of dollars invested in marketing and lobbying from animal agriculture annually, the Canadian public is subjected to the influence of industries on a daily basis, leading us to believe that certain products are important for our health when in fact they are not necessary.
It is because of this that Health Canada's warning labels will serve to help us make dietary choices that are based directly on the most accurate, unbiased health science available.
Canada's updated Food Guide recommends a diet of few or no processed foods, from plant-based sources as much as possible to greatly reduce our risk of type 2 diabetes, heart disease and multiple types of cancer in our lifetimes.
The mobilization of these recommendations could help tackle many of the health epidemics we are facing in this country, and considering their potential to dramatically reduce the amount of our taxes needed to fund our health-care system over time, this could help improve our lives in more ways than one.
Article content
Mac Findlay, Regina 
Buses must cater to sight impaired
In 2015, Regina Transit introduced accessible signage at six bus stops on 11th Avenue, making these bus stops accessible for people with sight loss.
The high-contrast signage that incorporates large print and braille was a step in the right direction to make Regina more inclusive. Unfortunately, it is yet to be seen at all bus stops in the city.
Also, the introduction of route announcements has been well received, boosting the confidence of many riders who are blind or partially sighted, but it's important that this feature is turned on while the bus is in operation.  That's not always the case.
As we prepare for a post-pandemic future, it is important to ensure accessible transit remains a priority. Everyone has a right to travel safely and independently in their community.
Chidinma Obidegwu, CNIB Saskatchewan South, Regina
Your letters for June 16, 2022: Premier's words to school boards questionable
Want to know how we decide what to cover and how editorial decisions are made at the Saskatoon StarPhoenix and Regina Leader-Post? Get the weekly Letter From the Editor newsletter from the Editor in Chief Russell Wangersky and join the discussion on what goes into covering news and delivering commentary, both in print and online. Click here to subscribe.