The fact that new rental projects are launching shows developers have confidence in the market, says Kendall Brown of Zonda Urban.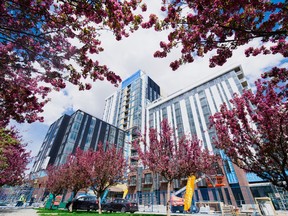 Reviews and recommendations are unbiased and products are independently selected. Postmedia may earn an affiliate commission from purchases made through links on this page.
Article content
Calgary's rejuvenated economy is powering growing demand for new purpose-built rentals in downtown and surrounding areas.
Article content
"Traditionally, the city hasn't been a big market for rentals," says Kendall Brown, manager of rental data for Alberta for Zonda Urban.
Article content
"But we're definitely seeing a boom now, especially downtown."
That rise in demand has many drivers, including a return of young professionals who had previously shunned downtown multi-family living during the pandemic, she says.
As well, many workers from expensive markets like Toronto and Vancouver are coming to Calgary, finding work in its increasingly diversified economy.
"It's still very affordable when you compare Calgary's market to those cities," she says.
That is despite rental units in Calgary seeing a 13 per cent increase in costs in the second quarter of this year relative to the first quarter, a recent Zonda report shows.
Article content
"That's a fairly big jump of 30 cents per square foot and a function of developers removing incentives and growing demand," she says.
Average new rentals downtown charge $2.75 per square foot, the report shows. That's compared with $4.17 in Toronto and $4.86 in Vancouver, Brown notes.
Despite demand rising, vacancy increased among Calgary's downtown new rentals quarter-over-quarter to almost 16 per cent by mid-year. The vacancy rate is the highest among all areas of the city with the Outer North and Outer South having the lowest rates at one per cent or lower.
One reason for higher vacancy is "two new projects launched downtown, adding more than 700 new units," Brown explains. "Those take a while to absorb."
Yet the fact new projects are launching shows developers have "confidence" in the market, Brown says.
Article content
Among them are developers behind a new high-rise in Bridgeland called Bridge.
"It's very much in the inner city, just one LRT station away from downtown," says Edan Lindenbach, principal at Jemm Properties, the developer behind the new project.
Featuring 285 units, 9,000 square feet of retail, Bridge launched July 1 and was 25 per cent leased as of early September.
"It's going very well especially compared with pandemic times," he says. "The market has just been on fire for purpose-built rentals with more people moving back to the core."
Bridge also illustrates many trends among multi-family purpose-built projects, offering a large slate of amenities. It has a 4,500-square-foot rooftop lounge with kitchen and barbecue facilities, and even work pods for tenants working from home. Bridge also includes a rooftop dog-walk on another floor.
Article content
"So you can go there in your pyjamas without leaving the secured building to walk your dog if you want," Lindenbach says.
Bridge also offers several state-of-the-art technology features, including keyless entry.
"All access is done with a smart phone along with facial recognition at the front of the building," he adds. "You can also send e-keys to guests so they don't have to buzz you when they arrive."
With rents for one bedrooms starting at $1,550 — average for downtown, according to the Zonda report — Bridge is aiming to attract young professionals, particularly those without automobiles.
"We decided to cater more to people without cars, so we only have one parking stall for every four suites."
That said, Bridge will feature two electric cars, along with e-bikes and scooters for shared use — adding value for tenants, who may increasingly find homeownership unappealing, Lindenbach suggests.
"There is a real appetite for rentals among millennials and Generation Xers, given the high cost of homeownership and interest rates rising."