Here are today's Ottawa Sun letters to the editor.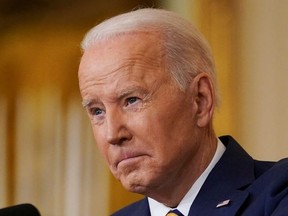 Article content
IT'S THE SECOND AMENDMENT, JOE
Article content
President Joe Biden said other nations have people filled with hate or with mental health issues, but no other industrialized nation experiences gun violence at the level of the U.S. Biden then asked, "Why?"
In the 2009 case District of Columbia v. Heller, the Supreme Court held that the, "Second Amendment protects an individual right to possess a firearm unconnected with service in a militia, and to use that arm for traditionally lawful purposes, such as self defence within the home."
I wonder if gun owners in the U.S. are wandering around the house with their loaded gun on them at all times because if the gun is upstairs in the nightstand and the homeowner is downstairs cooking in the kitchen when someone breaks in, unless they're really good with a knife, owning a gun as self defence within the home is pretty much useless. The other thing I wonder is why, in many states, a person 18 years of age can buy a gun, but they can't buy a case of beer.
Article content
Anyway, my answer to Joe Biden's question is other nations have people filled with hate or with mental health issues but most nations don't have the Second Amendment. So, President Biden should do the math and figure out approximately how many guns have been purchased in the U.S. since 1791.
JILL YOUNG
OTTAWA
(Indeed.)
LEARN TO LIVE WITH IT
Re: Nothing normal about it, letter, May 26
In your letters section, a writer mentioned that we should almost close our borders to avoid "new" diseases appearing here. Our Indigenous citizens may have wanted to do that several hundred years ago when foreigners brought in tuberculosis and smallpox. We are not able to fully choose the world we live in, so let's learn how to live with what we have been given.
Article content
GERRY ROSENQUIST
IROQUOIS
(Wise words.)
POILIEVRE MUST BE A BAD MAN
As the alt-left continues to demonize Conservative leadership candidate Pierre Poilievre, it does make me ponder a few things. I'm trying to think of whether Poilievre ever dressed up in blackface or if he was involved in multiple scandals. Hmm, nothing comes to mind, but surely the guy must be all bad to have the lefties living in fear. Perhaps he's a threat to democracy or he makes them feel unsafe.
MIKE SHURTLIFF
KANATA
(It's one of the most interesting races we've seen for a while.)
ELECTRIC VEHICLE WHAT IFS
Re: Ontario investing in electric vehicles to fight climate change, Ford says, online edition, May 24
With regard to the news article about electric vehicles, what would happen during an extended power outage, which happens more than usual these days? Where would you charge them? In a snowstorm or traffic delays where you have to wait on roads and highways for long periods of time, do they just run out of juice?
Article content
I am all for clean energy, saving the environment and reducing our carbon footprint, but is it practical? Where do you charge them if you are travelling long distance? Do first response vehicles have the required battery power needed? Also, if the city uses all battery tools to maintain our parks, green areas, etc., what do we do with all the old batteries? Does this in itself cause environmental impacts?
A lot more research, real-life impacts on whether these tools will actually do the job, how long does the charge last, cost, thinking and discussion needs to take place.
JOHN GERVAIS
NEPEAN
(All good questions.)