Here are today's Ottawa Sun letters to the editor.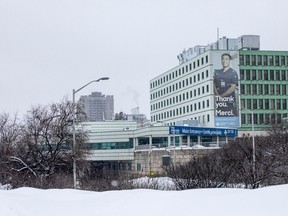 Article content
GIVE ME A PLAN
Article content
Give me a private health insurance plan that I will have to pay for and I will take it in a heartbeat (no pun intended). It certainly did not take long for the naysayers to dismiss the new orthopedic clinic at the Riverside campus of The Ottawa Hospital. These are the same folks who figure that just throwing money at the current Cuban system will produce better results.
I am betting that, if surveyed, many folks would take out a private plan, thus facilitating more treatment for those who cannot afford it. Instead, we continue to pay health-care bureaucrats obscene salaries and let the unions dictate service.
STEPHEN FLANAGAN
OTTAWA
(Health care has become a battleground for ideologies. Most folks would just be happy with a system that works.)
Article content
NOT JUST THE CHINESE
Stop this faux outrage over foreign election interference. Election interference by the rich and big business has been going on for decades. No one seems perturbed by this. Is it just that they are ticked off about losing their position of power over governments? You are just wasting Parliament's time with this BS. If you are going to look into election interference, probe the rich, big business and lobbyists. Not just the Chinese.
BRIAN SCOTT
OTTAWA
(We already have restrictions on "big money" during elections. And a fair degree of transparency. Neither seems to apply to China yet.)
ROLL UP TO SAY ROUND
Re: WARMINGTON: Trudeau now likening opponents to 'flat Earthers', online, Toronto Sun, March 20
Article content
What's with Prime Minister Justin Trudeau constantly rolling up his shirtsleeves? Not looking for an answer. Just throwing it out there.
Anyway, I'm done, that's D O N E done, looking at Trudeau with his sleeves rolled up as if he's about to wash the dishes, clean the oven or hunker down for a hard day at work.
I drive down Greenbank Road or Prince of Wales almost daily and both are as flat as a pancake. Woodroffe is flat also. Having said that, hopefully the next time Trudeau rolls up his shirtsleeves to give a speech about the Earth being round, he'll give the locations where the Earth isn't flat but round because he's got me now wondering if I'm actually driving downhill and should be applying the brakes. Or maybe I'm driving uphill. I don't know. I'm so confused.
Article content
Maybe the next time Trudeau speaks about the Earth being round he'll clear that up for me. Might be one of the only times rolling up his shirtsleeves makes sense.
Or he could forget about rolling up his sleeves and just wear a short-sleeve shirt.
JILL YOUNG
OTTAWA
(We'll pass on your fashion advice. But first, he still needs to do something about the socks.)
SIMPLY INAPPROPRIATE
The appointment of Trudeau "family friend" David Johnston to investigate election interference by Chinese interests is inappropriate. Johnston is taking on the role of the Red Queen in Lewis Carroll's Alice in Wonderland, who proclaimed, "Sentence first — verdict afterward." Curiouser and curiouser.
TOM NEWEL
NIAGARA FALLS, ONT.
(Johnston should have turned it down. Then again, he was the "Queen's representative" so maybe he'd like your analogy.)
ASTERISK ELECTIONS
Maybe there should be an asterisk beside the last two elections, as it seems our "prime minister" needed some outside interference to get elected. Maybe then he would convene an inquiry to clear up his legacy.
G. BRINKLOW
(It is unlikely the outcomes of the elections were altered; it's the interference that is at issue.)
YOU SAID IT: With gratitude

YOU SAID IT: Bulldoze it