She denied hitting, scratching or withholding food from the young boys, who she said she only locked in a room with a rope that one time.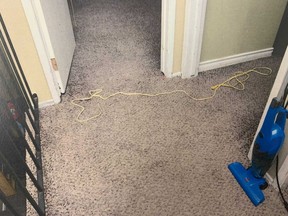 Article content
Warning: Story contains allegations of child abuse
Article content
A woman told a Saskatoon courtroom she doesn't know why she used a rope to lock two young boys in her care in an empty bedroom while she walked to a pharmacy about twenty minutes away.
She never made it to the store after getting a call from police telling her to come back home, the woman testified when her judge-alone trial resumed earlier this month in provincial court.
The older boy, who was seven at the time, had crawled out a window and was found standing on the overhang of their Lenore Drive duplex in the city's north end on Dec. 7, 2020. He said he was trying to clean up after his four-year-old brother threw up in the locked room.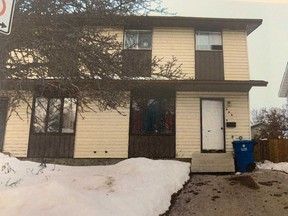 "What in that moment in time made you think 'Hey, I should find a rope, tie it around the doorknob, and tie it to the railing' ?" Crown prosecutor Lana Morelli asked during cross-examination.
"There was no thought," the woman replied, denying that it was done to prevent the boys from getting into trouble in other parts of the home.
The 37-year-old woman's trial began in December 2021. It resumed last week when the woman's co-accused boyfriend opted not to testify. The Crown closed its case and arguments have been scheduled for July 13.
Both the woman and her boyfriend are charged with offences related to confining, assaulting and neglecting the boys, who she testified were permanently placed in her care in 2018 and refer to her as "auntie."
The woman said she had seen her ex use a rope to tie their daughter in a room once, but stated this was the first time she had ever done it herself.
Article content
She told her lawyer, Blaine Beaven, that she was going to the pharmacy to get medication for the kids, who were sick, and left them behind because it would take longer if they came. She said her boyfriend was home, but he was sleeping and she didn't want to bother him.
The man, 28 at the time, was not involved in parenting the boys or the woman's biological daughter, who was almost 10 years old, court heard.
The woman said the boys' bedroom had no furniture, clothing or toys because the younger boy had smeared his feces all over the room about a month earlier and she hadn't put things back since cleaning it.
She is accused of hitting her daughter and the two boys with a broom, shoe and belt. The older boy testified she also hit him with a brush, punched him and scratched him with her long nails.
The woman told court she had to keep her nails cut short because of her job. She said numerous bruises, cuts and scratches seen in photos of the boys' bodies came from riding bikes, play fighting, bullying at school and the family cat.
She said she saw the older boy hit himself with a comb out of frustration at least three times, to the point where he drew blood. She said the boy was always scratching himself because he had skin irritations, and that many of the scratches in the photos taken on Dec. 8, 2020 were "old."
When shown a video of the boy from the summer of 2020, she admitted there were no visible scratches on his face or neck.
The woman said she only hit the oldest boy once, accidentally, with a terry cloth belt while tying up her robe. She said she disclosed it to a social worker because she wanted to be truthful.
Article content
She never saw her boyfriend hit the kids or lock them in a bedroom, and had no reason to believe he ever did, she said when questioned by the man's lawyer, Jordan Graham.
Morelli suggested that the marks all over the older boy's body were made by her nails.
"I disagree with that statement," she said, denying that she hit, scratched or withheld food from either boy, who she said she still loves.
She said she was physically abused as a child and knows how it feels to be neglected.
"I never wanted my children to feel the way I did."
Child neglect, abuse trial hears arguments on admissibility of statements made to social workers

Social worker testifies at Saskatoon child neglect, abuse trial

Daughter told officer her mom beat kids with broom, shoe and belt, child abuse trial hears

Doctor testifies about clustered injuries and malnutrition at child neglect trial
The news seems to be flying at us faster all the time. From COVID-19 updates to politics and crime and everything in between, it can be hard to keep up. With that in mind, the Saskatoon StarPhoenix has created an Afternoon Headlines newsletter that can be delivered daily to your inbox to help make sure you are up to date with the most vital news of the day. Click here to subscribe.