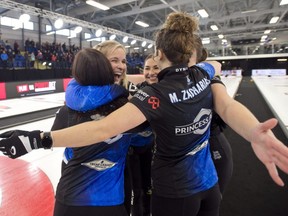 Article content
Jennifer Jones has won a lot of curling events in her long and storied career, but none of them was quite like this.
Article content
Playing with a brand new team made up of players aged 23 or younger, the 48-year-old Jones skipped the five-some to a championship at the inaugural PointsBet Invitational single-knockout tournament on Sunday in Fredericton, N.B.
Article content
Jones, who has won six Canadian women's championships, two world women's titles, and an Olympic gold medal, went 4-0 in the March Madness-style event, beating Team Casey Scheidegger (with Kristie Moore skipping) 7-4 in Sunday's final at Willie O'Ree Place.
Article content
Jones, third Karlee Burgess, second Mackenzie Zacharias, lead Lauren Lenentine and alternate Emily Zacharias took home the top prize of $50,000.
"It's just September but it's a really nice way to start the season for us," Jones said Sunday. "I thought we played well throughout. It was a great event and all the work we put in, in the summer, seems to be paying off right now, which is great."
Article content
Jones, from Winnipeg, represented Canada in the Olympics in Beijing last February, finishing fifth with her long-time teammates Kaitlyn Lawes, Jocelyn Peterman, Dawn McEwen and Lisa Weagle.
The team disbanded shortly after that but Jones quickly joined forces with Team Zacharias, which has already played twice in the Scotties Tournament of Hearts, once representing Manitoba and once as a wild card.
Mackenzie Zacharias and her teammates moved up to women's play together after winning the 2020 Canadian and world junior championships.
"It's been incredible," Jones said. "You never know what it's going to be like when you start something new and how it's all going to work but the chemistry has been phenomenal. We're all having so much fun and really trying to bring out the best in each other. That part has been really easy so I couldn't ask for anything more."
Article content
Team Jones opened the single-knockout tournament with a 9-5 win over Andrea Kelly, beat Selena Sturmay 11-9, topped three-time reigning Canadian women's champion Kerri Einarson 9-5 and then took down Team Scheidegger.
It's the second event win of the season already for the new squad and Jones threw much of the credit to her young teammates from Altona, Man.
"I've truly never met more selfless people," Jones said. "They're all here for the betterment of the team and same with me. We all want the team to be the best. Whether that means someone being willing to sit out a game or willing to try something new in terms of delivery, they're open to change and what's best for the team. It's just great to be a part of something like that, where everybody is just selfless and it's all about the betterment of the team."
Article content
A pair of Winnipeg teams — skipped by Matt Dunstone and Reid Carruthers — were set to square off in the men's final Sunday afternoon.
While the curlers and fans seemed to appreciate the new tournament, a pall was cast on the entire event with the sudden death of a popular New Brunswick curler.
Jamie Brannen, who competed for New Brunswick six times at the Tim Hortons Brier, including in 2022, died suddenly on the weekend. His father, Bob, also died later the same day.
Jamie Brannen was the lead or alternate player with Oromocto's James Grattan for the last three years.
"We all found out and had a few tears," Jones said. "He was just way too young.
"I called my kids right away to tell them I loved them. It gives you a pretty good perspective.
Article content
"He was just an all-around great guy and brought a lot to the game and was well-liked by everybody. It's just unbelievable that it happened. Just sending all our love to his family because I can't even imagine."
While Jones was happy to win the tournament and the big top prize, she's not crazy about the single-knockout format of the event and she really disliked the use of draws to the button to decide games instead of playing extra ends.
"I'm still a traditionalist, so it's hard for me to embrace change," Jones said. "It was a really fun event, fun to be a part of, but I still like the extra end vs. the draw to the button. I don't like it, but it worked out well for us this week."