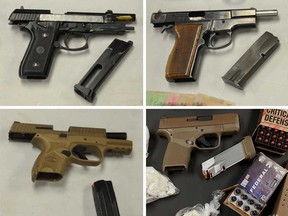 Article content
Law enforcement organizations across Ontario have a new strategy to deal with guns and gangs — and the Windsor Police Service is a part of it.
Article content
The OPP-led Guns and Gangs Joint-Forces Operation is meant to increase information sharing and offer additional enforcement tools among 21 police services, from Ottawa to Windsor.
"The JFO enables law enforcement partners to better collaborate to enhance public safety and effectively disrupt gang networks and their associated criminal activities," stated OPP in a release.
"Gang-related crimes are on the rise, as is the presence and use of illegal firearms to commit serious offences causing injury and death to participants and innocent bystanders."
Last year, OPP alone seized 879 firearms.
Windsor police are already part of the OPP-led Provincial Weapons Enforcement Unit, which has a mandate of identifying and apprehending those involved in the illegal movement of firearms.
Article content
In addition to the new Guns and Gangs Joint-Forces Operation, OPP announced that more police partners have joined the Provincial Weapons Enforcement Unit — and will have new positions on the Border Enforcement Security Taskforce led by U.S. Homeland Security.
Windsor police charge suspect in 'reckless' city shooting incident

Windsor police seek information about rifles seized in drug investigation

Rightful owner of Remington rifles found, say Windsor police
These steps are meant to result in an increased police presence at critical points of entry, thus "curtailing the flow of illegal firearms entering Ontario," OPP said.
According to OPP, collecting and sharing of information is vital to addressing the risks to public safety posed by guns and gangs.
Article content
The JFO will develop a working group comprised of personnel from each participating police service that will prioritize gathering and analyzing intelligence on the traffic of illegal firearms and gang activity.
With province-wide commitment to the Guns and Gangs Joint-Forces Operation, and enhancement of the Provincial Weapons Enforcement Unit, law enforcement organizations across Ontario will have a "multi-jurisdictional environment" to collaborate and better understand the landscape when it comes to guns and gangs.
"We will work relentlessly as one team to protect the safety and security of our citizens and visitors," said OPP Commissioner Thomas Carrique. "The criminals are on notice: Gangs, guns, and all of the illegal activities that follow them are not welcome in our communities."
The JFO is part of a $75.1-million investment in crimefighting announced by the Ontario government in during the fall season of 2021.