Article content
Windsor police and local health experts announced Wednesday a new outreach program they hope will help deepen community relationships and address the impacts of substance use. 
Article content
Windsor police, the City of Windsor and the Windsor-Essex County Health Unit Wednesday announced a three-year, $1.5 million grant to they said will help send outreach teams and  resources into communities impacted by substance use. 
Known as the Substance Supports in Neighbourhoods Accessed through Police Partnerships (or SSNAPP), officials said the program will continue work done with Windsor's community safety and well-being plan, as well as the community opioid and substance strategy. 
"This team will work together with the aim of engaging community members and addressing community concerns in high priority areas for the development of neighbourhood safety and action plans," said acting Windsor police Chief Jason Bellaire. 
Article content
Bellaire said officers have an important role to play in addressing the "upstream" issues of substance use, noting they are a round-the-clock first responders who are often the first point of contact for people in crisis — which is where this program will help fill the gap.
"Here I am, standing here as Windsor police, and I'm speaking to social issues that we're catching at the very tail end of the cycle," Bellaire said.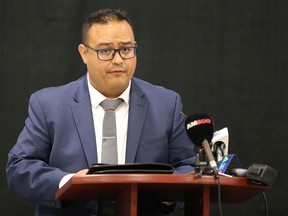 Windsor Police Service Const. Surjeet Gill will lead the team, with assistance from the police community services branch and alongside a dedicated co-ordinator from the health unit and the safety and Leonardo Gil, the well-being plan project manager who was instrumental in securing the grant funding. The grant is funded through the Ontario Ministry of the Solicitor General.  
Article content
Key aspects of the program will include developing community safety and action plans, creating a public education campaign and establish community training opportunities.   
While what the program looks like in practice will change from neighbourhood to neighbourhood,  Eric Nadalin, director of public health programs for the health unit, said key components will address prevention and education, treatment and recovery, and hard reduction.
One example of an intervention could be targeting naloxone distribution in high risk communities, while another could be doing more education and prevention work among youth if the community sees higher overdose rates.  
"We've heard clearly from the community and stakeholder agencies that partnership with law enforcement is a critical step in improving the situation for people who use substances in our community,"  Nadalin said., 
Article content
The goal is to help build relationships so that police can be seen as a resource for getting help, he added.
Work on the outreach program will begin right away, and money has already arrived in the community, officials said. The program will be fully implemented by this fall and operate for three years. 
Gill, the police officer heading the program, said it will build on the outreach and crime prevention work police are already doing in areas including downtown.
Criminally charged opioid addicts dying before they get to trial

Spike in opioid overdoses leads to community alert in Windsor-Essex

Windsor health unit and local faith leaders join together to distribute naloxone kits
"The first responders, we're the first ones on the scene," Gill said. "The bigger challenge we are facing is, how are these people connected after?
"That's the key component here: how our police officers, and this project, could help them connect somewhere, give them some kind of information."