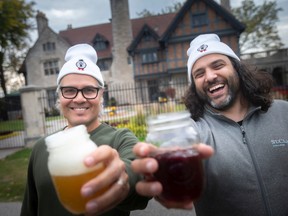 Article content
It's going to be a pitcher perfect weekend.
Article content
The annual Windsor Craft Beer Festival returns to Willistead Park on Friday and Saturday offering brews, bites and more.
Article content
"It's going to be a beautiful festival," said co-organizer Gino Gesuale. "It's going to be all lit up. Lights and music and obviously the beer. Just a nice vibe. And the weather is supposed to be tremendous."
Gesuale and Jay Souilliere, partners in Motorburger and Motor Craft Ales, are putting on the festival with WindsorEats co-founders Adriano and Pina Ciotoli.
The beer flows from 5 to 11 p.m. both nights.
"It's kind of a big deal in the sense that it's the first beer festival since COVID," said Gesuale. "That last time we ran it was 2019. So now we're coming back with this festival and we're hoping it's going to be a great success."
Article content
Set-up for the festival is now in full swing, but it wouldn't have happened without some stout determination.
Ontario breweries, like many other businesses across the province, have struggled to find employees in the aftermath of the COVID-19 mandates and lockdowns. Gesuale said many of them were not planning to join the festival this year because they couldn't find enough people to pour their beer.
"What we said is, why don't you send us some special products and we'll try to hire the bartenders to pour your product," he said. "They really liked that because they can send the product from anywhere in Ontario and not worry about it. They're really grateful for that because, otherwise, if they can't bring people, they can't participate."
Article content
A range of libations will be available from 24 brew houses. Among them will be local favourites Brew Microbrewery, Chapter Two Brewing Company, Craft Heads Brewing Company, Cured Craft Brewing Co., GL Heritage Brewing Co., The Grove Brewing Company, Frank Brewing Co. and Walkerville Brewery.
Rico Taco, Salt Sushi and WindsorEats will be serving up food. Entertainment will include DJs and live music.
Photos: Cheers to Windsor Craft Beer Festival

Vacant for decades, derelict Drouillard Road store set for rebirth
Gesuale said the event previously brought in about 3,500 people over two days. He's hoping to match that for the festival's return.
"It's great to be back," he said. "I think people want to come back and have a good time. We missed that.
"The social interaction is very important for all us humans. So I think the turnout is going to be really good. I think people are just itching to get back to some normalcy. I feel pretty good about it and I think people feel good about going out."
Advance tickets are available at windsorbeerfestival.com for $29, which includes $10 worth of digital tokens. At the gate, tickets will be $50 cash.