"Cam is experienced and provides us with greater goaltending stability heading into next season."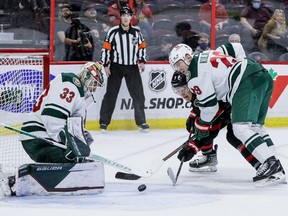 Article content
The Ottawa Senators have served notice they're acting for the here and now.
Article content
General manager Pierre Dorion continued to make changes Tuesday by acquiring veteran goalie Cam Talbot from the Minnesota Wild in exchange for backup Filip Gustavsson.
Bringing the 35-year-old Talbot to Ottawa will solidify the goaltending position with Anton Forsberg. Talbot has only one year left on his deal at $3.67 million and will be able to push for playing time, which will create a good internal competition in camp in September.
Article content
"Cam is experienced and provides us with greater goaltending stability heading into next season," said Dorion. "He was instrumental in helping Minnesota reach the playoffs in each of his two seasons with the Wild.
"The tandem of he and Anton Forsberg sets us up nicely for the upcoming year."
Article content
A native of Caledonia, Ont., Talbot finished last season ranked 10th in wins among NHL goalies with 32 victories in 49 appearances in the Wild net. He finished with a 32-12-4 record with a 2.76 goals-against average and a .911 save percentage.
The Wild have salary cap issues and Talbot wasn't pleased about returning to Minny in the role as a backup to Marc-André Fleury. While Gustavsson has shown flashes of brilliance, he's hardly had any kind of consistency and is signed to a one-way deal for the 2022-23 campaign.
The 24-year-old Gustavsson finished last season with a 5-12-1 record in Ottawa with a .892 save percentage. The Senators have Mads Sogaard and Kevin Mandolese in the system while prospect Leevi Merilainen looks like he'll play in Ottawa as well.
Article content
Forsberg was solid throughout the season, but the Senators need somebody who can play at least 30 games. This gives coach D.J. Smith the option to allow the duo to battle for playing time, and the word is Talbot is thrilled at the opportunity to join the Senators.
Talbot, who was never drafted, has made stops with the New York Rangers, Edmonton Oilers, Philadelphia Flyers, Calgary Flames and Minnesota.
He was already widely respected by Ottawa faithful before the move was made. Talbot stood on the opposing bench to give former goalie Craig Anderson a round of applause after he made 37 saves in a 3-0 win over the Edmonton Oilers on Oct. 31, 2016, only hours after learning his wife, Nicholle, had cancer.
Twitter: @sungarrioch