Get the latest from Michele Mandel straight to your inbox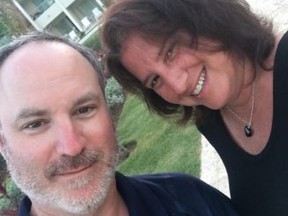 Article content
When someone threw acid on Toronto litigation lawyer Scott Rosen, singeing the back of his neck as he headed to the underground parking garage after work on March 28, 2018, he initially suspected the culprit was a homeless person.
Article content
But after giving it more thought, he wondered if it had been Anh Chiem, his client's ex-mother-in-law who blamed him for all of her legal woes.
Article content
"I said, 'What are you talking about? Isn't she old? She's not throwing acid on you,'" his wife Elise Middlestadt assured him.
Who would do such a thing?
"Little did we know," she said.
Some 21 months later, the petite Chiem rented a U-Haul F-150 truck and ran down the father of two in the underground of his new office building, reversed over his body and then took off. On Tuesday, after a six-week trial and less than a day of deliberations, a jury found the 64-year-old grandmother guilty of first-degree murder.
"I was crying; it was very emotional. Everyone in the courtroom overwhelmingly felt she was guilty," Middlestadt said in an interview. "I'm just happy for Scott because it was justice for him. He was a lawyer, that's what he did, that was something very important to him. He was all about justice. And it was justice for him."
Article content
RECOMMENDED VIDEO
Together just shy of 10 years, this was the second marriage for both. His wife wants people to know Rosen was more than the victim of a deranged woman — he adored his two sons with all of his heart, loved to fish and play guitar and was smitten with their new dog Charlie. "He was a good guy," she said simply.
Who was killed for doing his job too well.
Middlestadt attended every day of the long trial with all of its difficult evidence. But nothing could compare to coming upon the scene herself at 6:15 p.m. on Dec. 18, 2020.
She'd had surgery that week and Rosen promised to take their dog out for a walk. She called him just after 5 p.m. and he assured her that he was already packing up and getting in the elevator. But when Middlestadt got home, her husband still wasn't there. She called and called, but he didn't pick up.
Article content
Annoyed he'd probably been caught up with a client, she walked Charlie herself. When Rosen still wasn't home, she started to worry. When she saw a news report about an incident at Mt. Pleasant and Eglinton, the site of his office, she feared he'd been in a car crash and rushed over.
"The garage door was open. He was already covered," she recalled softly. "I saw him lying there and I saw his briefcase lying there. And then I knew. It was horrible."
'Like out of a movie'
When the police asked if she could think of anyone who could have done this, Middlestadt thought of only one: Chiem, who was furious Rosen successfully represented her former son-in-law in an expensive lawsuit against her and had opposed her filing for bankruptcy when she owed thousands in gambling debts. She was also angry her two bitter complaints against him with the law society had been dismissed.
Article content
Middlestadt had asked her husband if he should be worried. "He said, 'No, what is she going to do? She's five feet tall, how is she going to hurt me?'"
How could they know she would use a truck as a weapon?
There was an avalanche of evidence against Chiem — she'd rented the U-Haul three days that week and had even been ticketed by police near Rosen's building for having a licence plate obscured with duct tape. She denied renting it on the day of the murder, but an eyewitness identified her as the woman behind the wheel of a heavily damaged F-150 shortly after Rosen was struck and killed.
MANDEL: Grandmother vehemently denies killing lawyer with U-Haul truck

MANDEL: When a court case is almost like TV
"The whole thing was like out of a movie. She was a 62-year-old Vietnamese woman not five feet tall who planned this calculated, horrific thing," Middlestadt said.
"For a smart woman in business, she did not know how to commit a murder and not get caught. And I'm very thankful."
Sentencing is scheduled for May 24.