Caps' inconsistent production under pressure has put them back at the bottom of the mountain to qualify for playoffs.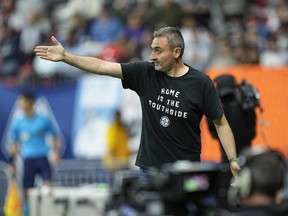 Reviews and recommendations are unbiased and products are independently selected. Postmedia may earn an affiliate commission from purchases made through links on this page.
Article content
The last game against Austin FC was, in Vanni Sartini's reckoning, the low point of 2022 for the Vancouver Whitecaps.
Article content
A first-half brace from Caps killer Max Urruti put Los Verdes in control in their April 23 meeting at Q2 Stadium and another miasmic Vancouver performance let Austin cruise to an easy 3-0 victory. The result left the Caps in last place in the West, winless on the road, with a meagre four points from their first eight games of the season.
Article content
"I thought that they were going to fire me after the game," said Sartini.
But the Whitecaps didn't, and that leads us to the present, where Saturday's rematch with Austin has the potential to be either blissfully cathartic or completely catastrophic.
---
NEXT GAME
Saturday
Austin FC vs. Vancouver Whitecaps
7 p.m., B.C. Place. TV: TSN. Radio: AM730
---
The Whitecaps' (11-14-7, 40 points) playoff math is simple: win both their remaining games — starting against Austin — and hope that Seattle, Real Salt Lake and Minnesota, collectively, um, defecate the bedsheets.
Article content
It could happen, as all three have been on the ragged edge.
The Loons are clinging to the last playoff spot with 45 points, but have been soiling their sleepset quite handily, going 0-4-1 since the end of August. They face San Jose (eliminated) and Vancouver in their final two games.
RSL is winless in four (0-3-1) and have the L.A. Galaxy and the Portland Timbers left on their slate.
Seattle had stopped a winless August run (0-4-1) with two wins to start September, but the Caps stopped them cold in Vancouver with a 2-1 victory.
"We want to arrive at 46 points, because that's something that we can do that is in our possibilities, our skills and our abilities to do it," said Sartini. "And besides being on 46, it's the last game in front of our fans. If we finished the season with a win, it would be nice."
Article content
One team on the B.C. Place turf Saturday is playoff bound for sure.
Austin, in their second season of MLS existence, having gone 16-9-7 with 64 goals — second most in MLS — have a solid hold on second behind West-leading LAFC. For the Whitecaps to join them in the playoffs, they can't think about the playoffs. It's been part of their paradoxical makeup to only play well when there are no expectations on them.
When Sartini took over last year from Marc Dos Santos, he inherited a squad that had won three times in its first 18 games, and had only just returned to B.C. Place from their coronavirus gulag in Sandy, Utah. But, with no expectations for success, a free-spirited and relaxed squad lost just twice the rest of the season and qualified for the playoffs.
Article content
This year, after the ruinous start punctuated by the loss to Austin, they turned it around again, going 6-3-3 to jump back into the playoff picture. Along the way, they won a Canadian Championship, the first hardware for the club in years, and just their second chalice of the MLS era.
Later, the Caps were sitting in seventh place in the West when a three-game losing skid turned their post-season into a pipe-dream. But they then went out and won two straight against the Galaxy and the Sounders. Their current playoff odds sit at three per cent, the lowest of any club still alive.
But with the international break coming to an end, and most likely their regular season, Sartini says the team looks as good in training as it ever has. He called the team's pressure-averse mindset a lack of maturity, and acknowledged that he, too, has to evolve as a coach to keep those moments of weakness from taking root in the team.
Article content
"I have to improve as a coach, and this season was a very good lesson for me. If I see the first signal of something that is not doing well, I need to intervene immediately," he said. "I can't say, 'OK, let's see how it goes this week, and then maybe we'll do something.' "
And speaking of doing something, what will management do if the Caps lose to Austin this week? If he was worried about being fired after the first loss to Los Verdes, what would a second do?
"I say every time, and I'm not saying it just to make a joke; it's true," he said. " It doesn't count how long your contract is because the coaching job is an interim job. The contract is just your insurance that in case you get fired, you have time to find another job.
"If (recently fired Chelsea manager) Thomas Tuchel can be fired after winning the Champions League (the year before) because he had a couple of bad games, then I can be fired, even if I win the next two games."
Article content
Sartini hasn't talked with CEO Axel Schuster about his situation but was philosophical, as always, about what could unfold. He wants to be the head coach next season — he's under contract through 2023 — and has gone 18-20-9, with a Voyageur's Cup and post-season berth under his belt.
"Any decision that they will take will be OK," he said. "It's like a romantic relationship. It's never about how beautiful it's been so far. It's about, do you envision yourself with this person in the future? If it is at the moment, you need to stay with this person. If you think life is gonna be better (without them), you need to break up.
"If they decide to stay with me, it's because they believe in me. If they believe there's another guy that can be better than me or I'm not the right guy next year … It's never about what you've done, it's always about what the club thinks you can do in the future.
"I want to stay here. But again, if they look around, it doesn't mean that I don't look around," he added. "At the same time, the Whitecaps should be concerned too that someone talked to me. If I am concerned, why shouldn't they be concerned?"
Austin 3, Vancouver 0: When it rains, it pours … all over the Whitecaps

Piquant Sounders-Whitecaps rivalry gets a little bit spicier thanks to a dash of desperation