Follow along in today's game with Postmedia writer J.J. Adams as the Vancouver Whitecaps visit Minnesota United FC with everything on the line on Decision Day in MLS.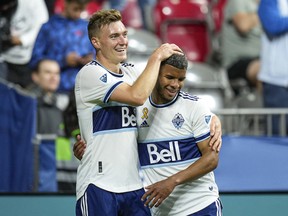 Reviews and recommendations are unbiased and products are independently selected. Postmedia may earn an affiliate commission from purchases made through links on this page.
Article content
It all comes down to this. A win, and the Vancouver Whitecaps are in the Major League Soccer playoffs.
Article content
It's a remarkable turnaround from a horrible start to the season, much like they did in 2021, but this time, they're fighting to make it over the line, rather than stay above it, on Decision Day.
Article content
Kickoff today in Minnesota is 2:18 p.m. PT.
Let's get at it …
WHY THE WHITECAPS WILL WIN
The Loons haven't won a game since August (0-5-1), being outscored 14-2 over that span, cratering at the worst possible time.
And take a look at Vancouver's form — they're on a three-game win streak and feel like they're a team of destiny, with all the stars aligning for them to get to this point. And if you look at games that could be considered "elimination" games — their four Canadian Championship games, all of their last three games — then they're a perfect 7-0 in do-or-die games.
Article content
"We are the underdog," coach Vanni Sartini said in my preview from Saturday.
"(Minnesota) playing home really is a huge factor. And then they have two (possible positive) results and we have one result. So I would say it's more 33 per cent than 26 … we have 1/3 possibility to make it. And when the whistle starts kickoff, we are one goal away from the playoff. Now it's 33 per cent. Like three weeks ago, it was one per cent. So it's 33 times higher."
And there is no pressure on the Caps, which, ironically, has been when they play their best.
"For three weeks, I don't know how many games went our way, but it's been probably in the double digits," said fullback Jake Nerwinski. "There's no other way to say it. It's improbable. It's almost impossible. … Everything went our way to get to this point. Hopefully we can continue to make the most of it and make it worth it.
Article content
"It's one game now. It's just one game. … Now we get to go play free. And if we win, we know that we did everything we could. If we lose, we did everything we could."
WHY MINNESOTA WILL WIN THE GAME
The Loons are playing at home, where they haven't exactly turned Allianz Field into a fortress with a 7-4-5 record. But they're playing a team that hasn't been able to find any winning formula on the road this season.
The Whitecaps have just two wins away from B.C. Place in 2022 (2-10-4) —  the third-worst mark in the Western Conference, and worst of any team still alive in the playoff race — and haven't had an away victory since July when they beat FC Dallas.
Vancouver also hasn't ever won a game in Minnesota (0-2-2), and been held scoreless at Allianz since 2017. And Minnesota is motivated to snap their improbable slump.
"It's crazy, I know," coach Adrian Heath told Minnesota Star-Tribune writer Jerry Zgoda.
"What with the World Cup, it's going to be a long, long break if we don't make it this weekend. It'd give us a bit of time to think about what's gone on."
HOW THE WHITECAPS WILL LINE UP
Article content
HOW THE LOONS WILL LINE UP