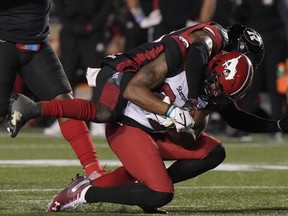 Article content
It seems like so long ago for Frankie Griffin — back in fifth grade — when his mom Sheree was reluctant to let him football.
Article content
He was small, fragile. He didn't exactly fit the prototype of a football player as he played backyard football with his pals. Getting tossed to the ground hurt. He didn't like football much at the time. But there was something about the game that stuck with the skinny kid from Spring, Texas, located a few kilometres north of downtown Houston. He began to get a knack for it. He grew and got stronger. At Klein Collins High School, he was the junior and senior defensive MVP. That turned into a scholarship at Texas State University and looks from the NFL's Green Bay Packers and Indianapolis Colts.
Article content
Now, after getting his feet wet in the CFL a year ago, the 6-foot, 200-plus-pound Griffin is hoping he gets a full-time opportunity to show the Ottawa Redblacks what he's made of.
Article content
"I wasn't always the strongest or biggest," said Griffin. "I just developed over time. When I was young, I didn't really care about school much and wasn't even that big on football. But my coaches were like, 'You really have an opportunity to play college football.' So I was just looking forward to playing college football. Once I made it to college, I set all my goals and achieved them, then it was, 'OK, I have a shot (at playing professionally)."
The 26-year-old Griffin, who had eight tackles on defence and another five on special teams in eight games with Ottawa in 2021, was on top of the depth chart at WILL (weak-side) linebacker for last Friday's 23-17 pre-season win over Toronto (making three tackles). Micah Awe, who started at the position in 2021, is now in B.C. So, the starting job is wide open.
Article content
"This is a great opportunity," said Griffin. "It's a blessing for me to be placed in the situation I'm in. I'm confident in my abilities to execute what the coaches need of me and what my team needs of me. I could have been fifth string and I'd still be going all out."
Griffin will be pushed for the job. Others on the depth chart include Terrance Smith, Troy Young and Canadian Adam Auclair.
"There's competition," said Auclair. "Competition is good for all of us, it pushes everyone and I love all the guys I'm competing against. I have to have a great game (Friday in Montreal). Then we'll see what plan is for the coaches."
Griffin is no stranger to adversity. Between his junior year in high school and freshman year at Texas State, he had a broken ankle and two torn ACLs. He redshirted in 2014, took a medical redshirt in 2015 and considered giving up the game. He played 42 games in four seasons of college football, making 212 tackles, 25.5 of which were for a loss, along with 7.5 sacks, seven forced fumbles and three fumble recoveries. He earned all-Sun Belt third team honours for his 2017 season and honourable mention in 2018. He signed with the Packers as an undrafted free agent in 2020. After getting released, he got a workout with the Colts. Then, the Redblacks came calling in 2021.
Article content
"Sometimes doubt creeps into my mind," said Griffin. "Throughout the process, when you're training, sometimes you're like, 'Dang, am I going hard enough for this?' That's when you have to get in that extra rep or run that extra mile. The NFL opportunity) was short lived, it was another step for me. It showed I could get there, that I am at that calibre. But it just also showed me there's a lot of work to do if I want to go back. Right now, though, (Ottawa) is my home."
There will be an adjustment period in the CFL for weak-side linebackers in the CFL. With the hashmarks being moved in on the field for the 2022 season, there is a lot more space on the boundary side.
"His physicality is one thing I like," said Redblacks head coach Paul LaPolice when asked about Griffin. "I like the way he runs and he's got the ability to cover some ground. He's done a nice job, he's had a good camp. With the hashes changing and a bit more width to the boundary, that suits his game well."
Article content
"I like the hashes moving in," said Griffin. "It creates more space and I feel like one of my strong suits is playing in space."
Auclair feels the same way.
"It fits my game," said Auclair. "When I was in college, I was playing at the nickel spot. So, I'm used to playing on the wide side of the field."
Auclair, a first-round selection (sixth overall) of the Redblacks in 2020, is finding his stride. In his rookie season, he had 12 defensive tackles, with eight more on special teams. Now, with familiarity with both the playbook and the coaching staff, he's ready to take more steps ahead in 2021.
"Confidence is a big thing," he said. "(2021) was my first year as a WILL — everything is a lot more relaxed in front of me. My vision is better and (being familiar with the playbook) helps me play faster."
THE END AROUND
The Alouettes have cut RB De'Lance Turner, who was with the Redblacks last season … The CFL Board of Governors Tuesday ratified the new collective bargaining agreement, which the CFLPA agreed to late last week.