Here's what the candidates had to say in our 2022 municipal election survey
Article content
Quick facts about the Bay ward
Article content
Population: 51,906 (City of Ottawa, 2022 estimate)
Area: 65.56 square kilometres (City of Ottawa)
Article content
Incumbent: Theresa Kavanagh
Candidates running: Theresa Kavanagh, Robert Hill and Othman Alhusain
Where is Ward 7?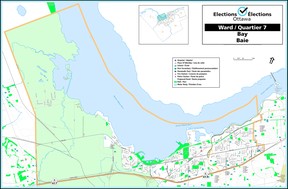 ---
SURVEY RESULTS
Do you reside within this ward?
Theresa Kavanagh: Yes
Robert Hill: Yes
Othman Alhusain: No
Why do you think you're the best person to represent your ward?
Theresa Kavanagh: "For the past four years I've been a strong voice for Bay Ward to get results such as speed reductions, traffic calming and new sidewalks plus murals and park structures. My weekly newsletters are a success. I am very proud of initiating the Britannia Winter Trails helping the community to stay healthy"
Robert Hill: "I am the best person to represent my ward as I bring a young, fresh perspective and the fight and drive to make this community a better place. I will fight to ensure all residents have their voices heard and that we see real change at city hall"
Article content
Othman Alhusain: "Ward 7 and Ottawa are facing big challenges in transportation, infrastructure and housing. As an engineer who worked on many urban planning and infrastructure projects, I have the required experience, knowledge and impeccable reputation as a clean-handed person to make a difference in the lives of Bay Ward residents"
What is the most important issue in your ward? Why?
Theresa Kavanagh: "Climate change is the most important issue across the globe and we need to tackle it at the ward level as well. We need to use the climate change lens on any project in our community to ensure it's about reducing greenhouse gases, such as making our neighbourhoods more walkable and having reliable transit"
Robert Hill: "Throughout my discussions with residents in the ward I've heard growing concerns about the cost of living and related rapidly rising housing costs. I will work with my fellow city councillors, our landlords and the developers to ensure that all new housing development projects have an adequate amount of units set aside for affordable housing. I've heard far too often of people having to choose between putting food on the table or a roof over their head and that is unacceptable. We must also look at existing properties and available land to ensure that we maintain and add a substantial allotment of affordable housing in this city"
Article content
Othman Alhusain: "Infrastructure, because the most important infrastructure project in Ottawa, the Light Rail Line, cuts through Bay Ward. The Light Rail project is expected to continue even beyond the mandate of the next council. Since its inception, this project suffered and continues to suffer from serious design and execution errors on the tunnel, rail lines and on the coaches and control systems. All these faults make error remedies almost impossible. Nonetheless, since the construction of the Light Rail extensions toward west and south Ottawa (to Kanata and to the airport and Barrhaven) criss-cross Bay Ward, it is expected that turning our streets and bridges upside-down will continue. I will work hard on shortening the execution periods for these projects and enact regulations to require developers to execute projects awarded to them in good quality, and on time, and to severely punish developers who get late on the execution of projects awarded"
Article content
What is the most important issue citywide?
Theresa Kavanagh: "Affordable housing. We need to create more and it needs to be close to transit as much as possible"
Robert Hill: "Aside from the housing crisis that I mentioned in my previous response, the next biggest concern I've heard about is the transit system. People are spending two or more hours travelling 15 minutes away. This is unacceptable. Going forward, we must work to ensure that the LRT issues are resolved so we can have that system running as advertised and also ensure that buses arrive where and when they are supposed to"
Othman Alhusain: "I believe that the most important issue citywide is housing. House ownership, or rent, is increasingly becoming an unattainable dream for everyone in Ottawa. Residents of Ottawa suffer a lot to find housing, and it is becoming harder for them to pay their rent, condo fees or mortgages. This is true not only for low-income residents but also for middle-income residents as well. The solution, in my opinion, is to build more residential units, affordable housing units and special units for Indigenous people, seniors and vulnerable youth. Let us set an ambitious target and work on achieving it"
Here are the candidates for the 2022 Ottawa municipal election

How and where to vote in the 2022 Ottawa municipal election
This article is available for free — outside of our paywall — because we believe this is a matter of crucial public interest. If you'd like to support us as we continue to provide journalism that matters for all Ottawans, please subscribe: https://ottawacitizen.com/subscribe/