Here's what the candidates had to say in our 2022 municipal election survey
Article content
Incumbent: Riley Brockington
Article content
Candidates running:
Article content
Riley Brockington, Ethan Sabourin and Alex Dugal
Where is Ward 16?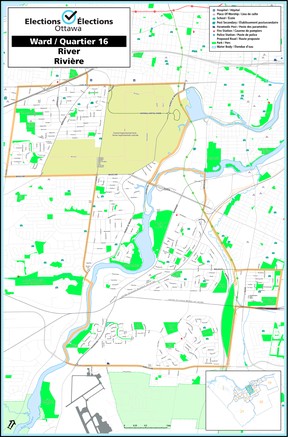 ---
SURVEY RESULTS
Do you reside within this ward?
Riley Brockington: Yes
Alex Dugal: Yes
Ethan Sabourin: Yes
Why do you think you're the best person to represent your ward?
Riley Brockington: "My extensive community service in the ward over 25 years has provided me with a deep knowledge of issues and relationships with many in the community. I am focused on River Ward's issues, collaborating with the community, acquiring resources and getting the job done."
Alex Dugal: "My experience in private business, world travelling and government contracting has given me a wide range of experience to not only know what is needed for our ward and city but also the experience in dealing with our cumbersome government processes. I am solutions driven and know how to get results."
Article content
Ethan Sabourin: "I want to serve River Ward, my home for almost 15 years. My experience as a climate policy professional and community activist will be an asset at city hall to tackle Ottawa's most complex challenges. I will bring fresh energy and leadership to build a livable, caring, and responsive city."
What is the most important issue in your ward? Why?
Riley Brockington: "There are many pressing issues in River Ward and it is difficult to identify the top issue. Addressing the backlog of infrastructure renewal, from sidewalks and bike infrastructure to road resurfacing, park and community centre upgrading is very important, particularly since River Ward has a number of older neighbourhoods, whose infrastructure must be resourced and renewed."
Article content
Alex Dugal: "Our ward is a diverse ward, we have a large amount of green space and a sprawling ward that encompasses various types of neighbourhoods and housing options. I believe the most important issue is development directly in our ward and immediately adjacent. Where I live, I can count nearly 30 towers that are 10+ floors in height that will bring drastic change to neighbourhoods. I believe community engagement and communication in relation to these development projects is what is going to be a driving issue in the ward. Decisions made by our next council could drastically change our ward and I believe we need to do a much better job engaging residents to ensure they are aware of the developments and ensure that residents know how and when to voice their concerns, support and opinions to ensure we do not have decisions made that could drastically change our ward and residents may not be aware."
Article content
Ethan Sabourin: "A major issue in River Ward is the state of our transportation network. The next council needs to improve public options. Without well-maintained roads, frequent public transit and a connected cycling network, residents are cut off from local businesses and from each other. OC Transpo has not recovered from major cuts which undermined its ridership. Three of the four routes which served Rideauview were slashed and not restored. Other community buses run on low frequencies. We should bring these routes back and build the Baseline Bus Rapid Transit corridor to efficiently connect the inner suburbs. To support residents making last-mile trips, our transportation system must become multi-modal. Ottawa should develop a public bike share program, based on the successes of BikeTO in Toronto. We should explore a public rideshare service and provide significant indoor bike parking at all O-Train stations."
Article content
What is the most important issue citywide?
Riley Brockington: "Taxes remain a main discussion topic at the doors. Taxes must be reasonable, stable and predictable. They must be directed to the priorities of residents and focus on core services. Priority must include two matters in which city council has declared emergencies: housing/homelessness and climate change (reducing GHGs)."
Alex Dugal: "I believe citywide the main issue is reliable transportation. The reason is with a reliable transportation network, we open up areas of the city to better develop and enhance community housing options. We need housing to be connected to reliable transportation. If we build housing in areas where there is no transportation we have not given a total solution, we have simply solved one portion of a challenge. Reliable transportation allows us to connect the city to housing, employment and services."
Article content
Ethan Sabourin: "Our city is experiencing joined housing and climate emergencies. At city hall, I will prioritize green social housing, including non-profits, cooperatives, land trusts and community housing. With these ownership models, federal support and municipal zoning powers, we will build permanently affordable homes. Private developers still have an important role in building supply, with inclusionary zoning regulations promoting more affordable units. Ottawa needs to fight climate change by upgrading existing stock, starting with retrofits to Ottawa Community Housing, to improve living standards while stimulating green economic development, cutting costs and reducing emissions."
How and where to vote in the 2022 Ottawa municipal election

Here are all the candidates for the 2022 Ottawa municipal election
This article is available for free — outside of our paywall — because we believe this is a matter of crucial public interest. If you'd like to support us as we continue to provide journalism that matters for all Ottawans, please subscribe: https://ottawacitizen.com/subscribe/