Here's what the candidates had to say in our 2022 municipal election survey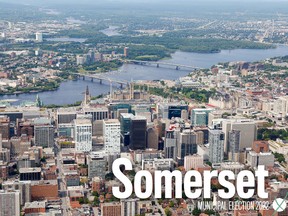 Article content
Incumbent: Catherine McKenney, who is running for mayor
Article content
Candidates running: Brandon Russell, Stuart MacKay and Ariel Troster
Article content
Where is Ward 14?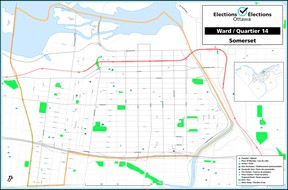 ---
SURVEY RESULTS
Do you reside within this ward?
Brandon Russell: Yes
Stuart MacKay: Yes
Ariel Troster: Yes
Why do you think you're the best person to represent your ward?
Brandon Russell: "I am ready to have hard conversations on day one and work with the people of this ward to address the problems they have been facing for years. I have the passion and know how to make real change."
Stuart MacKay: "I've lived in Somerset Ward for over 10 years, and I've been involved in our community with the Centretown Community Association and as a co-founder of Ottawa Transit Riders. I know the issues. I know the neighbourhoods. I'll bring new leadership to Somerset Ward that is collaborative, action-oriented, and solution-driven."
Article content
Ariel Troster: "I am a longtime advocate with more than 20 years of experience as a volunteer in Centretown and in the LGBTQ+ community. I also worked with the Federation of Canadian Municipalities to lobby all levels of government for the resources cities need to thrive."
What is the most important issue in your ward? Why?
Brandon Russell: "The biggest issue Somerset residents are facing is a lack of leadership in the downtown core over the past few years. Our people have been facing a rising cost of living, lack of affordable housing, and homelessness and addiction crises, for years. We need a councillor that won't make things worse. Our ward needs a leader who can walk and chew gum at the same time."
Stuart MacKay: "Housing and homelessness. We simply are not building enough new places to live here in Somerset Ward. As a long-time renter, I know how hard it is to find a clean, safe and affordable place to live. The City of Ottawa must take a leadership role in making it easier to build housing. This means speeding up the approval process for smaller builds like townhouses and multiplexes to bring much-needed rental housing online. We need to push developers to incorporate more three-bedroom units into new developments to keep families in Somerset Ward. Finally, we need to invest in affordable and deeply affordable housing to help get our unhoused neighbours a place to live. This includes more supportive housing for those who are chronically homeless so that they know the comfort of a roof over their head and the dignity of a closed door."
Article content
Ariel Troster: "Rising rents, the loss of moderately priced rental housing and the homelessness crisis are hitting Somerset Ward hard. People need affordable homes and better social supports in order to thrive."
What is the most important issue citywide?
Brandon Russell: "Transit is a major issue across the city. When our city is compared on the national stage we come up last every time. If Ottawa wants to attract the next generation of leaders we need to up our game."
Stuart MacKay: "Public transit. As someone who has spent years advocating for reliable, affordable and accessible public transit, I know that we must rethink the way transit operates in Ottawa. OC Transpo's previous model of simply relying on commuter ridership from the suburbs into the downtown core has been forever changed by the pandemic. As a result, rebuilding trust in public transit must start with local bus routes. Over the next four years, our priority should be ensuring frequent and reliable local bus service."
Article content
Ariel Troster: "The lack of reliable, affordable public transit means that the poorest people in our city are unable to get to work or appointments on time and continue to pay some of the highest transit fares in North America. We need to get public transit working for everyone."
How and where to vote in the 2022 Ottawa municipal election

Here are all the candidates for the 2022 Ottawa municipal election
This article is available for free — outside of our paywall — because we believe this is a matter of crucial public interest. If you'd like to support us as we continue to provide journalism that matters for all Ottawans, please subscribe: https://ottawacitizen.com/subscribe/