In Montreal, it's simply unacceptable that the Habs would muddle their way through a third straight season as a bottom feeder.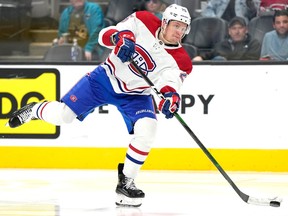 Article content
It's been an exciting week for hockey fans as we watched the top NHL teams loading up for their playoff runs.
Article content
A number of teams in the Eastern Conference — notably the Boston Bruins, New Jersey Devils and New York Rangers — got a lot stronger with their acquisitions and we'll only find out the real winners and losers of this trade-deadline feeding frenzy come the post-season.
Article content
Meanwhile, our Montreal Canadiens have not been particularly active so far, just as many expected. Habs general manager Kent Hughes made a good, if minor, deal acquiring Denis Gurianov from the Dallas Stars in return for the enigmatic Evgenii Dadonov. Dadonov has been mostly a bust since coming over from the Vegas Golden Knights in the deal that sent Shea Weber's hefty contract to Vegas. He showed very occasional flashes of brilliance, which is why it was so irritating for Habs fans to see him score an absolute beauty in his first game with the Stars.
Article content
Gurianov also looked good in his first game with the Canadiens. He had six shots on goal and one hit in the 3-1 victory over the San Jose Sharks Tuesday in San Jose and looked more engaged than Dadonov ever did with the team. Will this turn out to be a Kirby Dach-like situation, where the CH acquires a player the other team had given up on and somehow turns him around with a little help from inspirational head coach Martin St. Louis? Only time will tell.
The good news for the Canadiens is, if they don't like what they see in the final 20 or so games of the season, he's eligible to become a restricted free agent this summer, so they don't need to keep him if they don't want to.
Meanwhile, Hughes's team is neither gearing up for a playoff run nor preparing for a downward sprint for a better chance to nab likely No. 1 overall pick Connor Bedard. Prior to Thursday night's game against the Los Angeles Kings, Montreal was 26th in the overall NHL standings. In other words, it's a huge long shot that they'll end up with No. 1 selection.
Article content
Many, myself included, have pretty well had nothing but praise for the work of Hughes and his boss, executive vice-president of hockey operations Jeff Gorton, since they took over management of the team last season. The same goes for St. Louis, who has worked wonders with a team notably short on talent and further decimated by a crazy amount of injuries for the second straight season.
But the pressure is going to be much tougher for Gorton, Hughes and St. Louis starting next season. As I mentioned last week, St. Louis is going to have to start paying attention to the standings next season. In Montreal, it's simply unacceptable that they would muddle their way through a third straight season as a bottom feeder.
Most everything Gorton and Hughes have done thus far has looked good, but the NHL is littered with reconstruction plans that appeared promising and then went off the rails. Just ask fans in Buffalo or Edmonton.
Article content
Presumably, they will be locking up Cole Caufield to a lucrative multi-year contract sooner rather than later, so you'll have a first line for years to come built around the diminutive sniper and his best buddy and favourite playmaker Nick Suzuki. That's super exciting and, at the very least, guarantees the team will be fun to watch. But again Connor McDavid is the greatest offensive player of his generation and that still hasn't translated into playoff success for Edmonton.
One of the bigger question marks is Juraj Slafkovsky. Jury is out on him given that he's only 18 and his season ended in mid-January with a knee injury. I think he'll be a good top-six power forward, but the sample size so far is just too small to draw a definitive conclusion.
Article content
Probably the most encouraging thing for fans is the young defencemen, who have performed better than anyone could have expected. The group is led by Kaiden Guhle, who returned to action in San Jose Tuesday after missing 23 games with a knee injury and didn't show any sign of rust. He played close to 20 minutes and scored a goal.
But the biggest reason to feel optimistic is because — after relying on the dullest, most conservative of coaches ever since Jacques Demers left the building — the Habs were finally dragged kicking and screaming into the modern world with the hiring of St. Louis. He speaks more like a philosopher than the monosyllabic coaches we've been used to here and he's clearly had a huge motivational impact on the players. So just imagine what he could do with a team with genuine depth and talent?
Canadiens and newcomer Gurianov start strong in California | HI/O Show

Stu Cowan: Crafty veteran Savard is glue that bonds Canadiens' defence

'I always play with that edge,' Rocket agitator Xavier Simoneau says