Quebec only recommends the flu vaccine for the most vulnerable. But one expert says everyone should be encouraged to get the shot.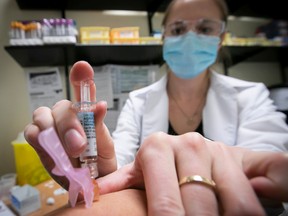 Article content
Flu season is expected to hit Quebec any day now.
Article content
With an early and potentially more severe flu season forecast, the province started its vaccination campaign on Oct. 5 — weeks before it normally does.
Article content
But there are conflicting messages about who should get the shot.
What do we know about the coming flu season?
Apart from a flare-up this past spring, Quebec had mild flu seasons over the first two years of the pandemic because COVID-19 precautions such as masking, physical distancing and limiting contacts helped stem the spread of the influenza virus.
Now, with contacts between people back to pre-pandemic levels, the flu is expected to "resume circulating normally" this fall and winter, said Dr. Gaston De Serres, an epidemiologist at the l'Institut national de santé publique du Québec (INSPQ).
Article content
The return of the seasonal flu would come as Quebec is contending with a rise in COVID cases and hospitalizations, he noted.
Dr. Matthew Oughton, an infectious diseases specialist with the Jewish General Hospital, said there are signs Quebec could face a worse-than-usual flu season.
In Australia, whose experience can be a predictor of what to expect in the northern hemisphere, influenza arrived earlier than usual and the country experienced its most severe flu season in five years, he said.
"There are (also) reports of an early start to the influenza season in some (U.S.) southern states, and it's probably a harbinger of what's going to come here."
The fact that the flu hasn't circulated much over the past two years "probably led to less overall levels of immunity," Oughton added.
Article content
He sees a possible perfect storm in the offing. The ingredients: the potential for an aggressive seasonal influenza season, less immunity in the population, few Quebecers wearing masks and distancing, and a health system still struggling with the ongoing COVID pandemic.
"A very good question to ask is: How are we going to manage if we get a surge of flu with everything else that's already going on?"
Has Quebec started seeing cases yet?
As of last week, Quebec "still had very, very, very few cases of influenza detected," De Serres said.
It's the same story nationally. "Influenza activity is low and remains at interseasonal levels," Health Canada says.
In the U.S., where experts are predicting a severe flu season, the Centers for Disease Control and Prevention (CDC) last week reported high levels of influenza activity in Georgia, Texas and the District of Columbia.
Article content
When are flu cases expected to start rising here?
"We expect the season to start soon," De Serres said. "In the past, there have been years where it started in mid- or late-January but we're not expecting that this year. We expect it earlier."
Pre-pandemic, most flu seasons were well underway by November or December. The flu normally circulates until early spring.
Under Quebec recommendations, who should get vaccinated?
Anyone can get the flu vaccine.
But Quebec only recommends it for people deemed at higher risk of complications, providing the shot free to these groups.
The groups targeted: people 75 and older, pregnant women and people between six months and 74 years old who have certain chronic diseases.
Several medical conditions are covered, including chronic obstructive pulmonary disease, emphysema, asthma, diabetes, cancer and cognitive disorders. For the full list of conditions covered, visit the Quebec government's flu vaccination page.
Article content
To reduce the risk of infecting others, flu vaccination is also free for health workers and family members who live in the same household as a child under six months of age, or a person at higher risk of being hospitalized, as well as their caregivers.
In addition, the flu shot is offered free to healthy children between six and 23 months old, as well as healthy people age 60 to 74.
Why does Quebec only recommend certain people get the shot?
"Vaccination against influenza primarily aims to prevent hospitalizations and deaths linked to influenza," De Serres said.
"And these hospitalizations and deaths are concentrated among people 75 and older, and younger people who have chronic illnesses."
An average of 6,194 people are hospitalized annually due to the flu, according to a 2018 INSPQ study that looked at five seasons ending in 2016. People under 75 who were in good health are rarely hospitalized.
Article content
As for deaths, the annual average was 417. The vast majority of deaths occur in people 75 or older and people with chronic illnesses.
What about other Quebecers – should they get vaccinated?
It depends on whom you ask.
Oughton recommends everyone get it. De Serres said it's up to individuals to decide.
Oughton, an assistant professor in McGill University's faculty of medicine, said Ontario, which provides the vaccine free to anyone who wants it, has a more "sensible approach" than Quebec.
"Look at the costs we've already incurred dealing with the pandemic," he said.
"A preventative approach like seasonal flu vaccine I think is a relatively small investment. It would make it a lot easier for anybody who wanted it to get it. It would also send a very clear message if Quebec were to open it up to all comers that this is something that we find very important."
Article content
Some people are clearly at higher risk of hospitalization and death.
However, Quebec should be promoting mass vaccination "as a way to not only protect individuals' health but also protect them from getting infected and therefore propagating transmission to others," Oughton said.
"So, even if a young, healthy person is unlikely to get severely sick from influenza, (vaccination) may still help reduce the chance of transmitting it to someone who is more vulnerable."
Both Health Canada and the CDC in the U.S. recommend that everyone six months and older get the flu shot.
De Serres, who as a member of the Comité sur l'immunisation du Québec helped develop Quebec's latest flu vaccine recommendations, did not go so far as to suggest everybody should be inoculated.
Article content
"For people who are young and in good health, it depends on the person's perception," De Serres said.
"If someone who is 30 and in good health asks me if I recommend that they should get vaccinated, as a physician, I would tell them: 'You're not someone who is at high risk of developing complications. If you want to get vaccinated, you can do it, but you'll have to pay for it.'
"But if someone wants to get vaccinated, I won't tell them not to."
De Serres said five to 15 per cent of adults will come in contact with influenza in a given season; among those people, only about one-third will be symptomatic.
How do you book a vaccination?
Appointments are available for flu shots via the Clic Santé booking site (clicsante.ca), as well as the websites of some pharmacy chains.
Article content
Can you get the flu vaccine at the same time as a COVID shot?
Yes. "They provide the same protection against disease whether they are administered at the same time or multiple days or weeks apart," Quebec says. "No specific issues have been reported following the administration of these two vaccines at the same vaccination session."
What else can people do to protect themselves from the flu?
A respiratory infection, the flu is caused by the highly contagious influenza virus. Symptoms can include sudden fever, sudden cough, sore throat, muscle or joint pain, extreme fatigue and headaches. Some get mildly ill while for others the virus can lead to hospitalization and death.
COVID-19 and flu symptoms are similar. But some symptoms are more typical of COVID, such as the loss of taste and sense of smell, which are not often seen with respiratory viruses, De Serres noted.
Article content
Flu spreads quickly — via droplets expelled from an infected person's mouth or nose or direct contact with an infected person's secretions, for example. It can live up to two days on objects and up to five minutes on skin, Quebec's health department says.
Washing hands frequently and cleaning your immediate environment — such as furniture, counters, door handles and switches — can help. Also: steer clear of people who are sick, and avoid touching your nose, eyes and mouth with unwashed hands.
The pandemic proved masks, physical distancing and limiting contacts prevent the spread of respiratory viruses, Oughton said.
"If we start to see a surge of respiratory viruses, you could prevent transmission by getting people to wear masks again, getting people to wash their hands, encouraging people to not go out if they are symptomatic and presumably infectious," he added.
"Those are all the things that we know work if we have the fortitude to do them. If we don't do that, I'm not optimistic about what's going to happen to the health care system."
As COVID-19 indicators rise, Quebec gets early start on flu shots

Everything you need to know about the flu, its symptoms and how to prevent it

Quebec-made vaccines will get Canada 'ready for future flu pandemics,' Duclos says