Surprise 100 basis point increase will likely put the squeeze on homeowners' budget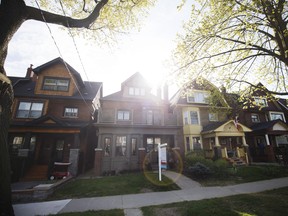 Article content
The Bank of Canada's surprise move to hike its policy rate by a full percentage point on July 13 will add to the financial squeeze on indebted homeowners and likely push more buyers to the sidelines of an already cooling real estate market, even if much of the impact was already expected.
Article content
Wednesday's interest rate decision, which brought the policy rate up to 2.5 per cent and sent a statement about the Bank's resolve in combatting inflation, came after markets had already largely priced in a 75-basis point hike. Housing markets have been cooling off rapidly since the prospect of a rate hike cycle pulled demand forward into the latter parts of 2021 and the first months of 2022, ahead of the Bank's first hike in March, and Wednesday's move will do nothing to reverse that trend.
Article content
James Laird, Co-CEO of Toronto-based mortgage brokerage Ratehub.ca, is one of the market watchers who was expecting a 75-point hike. Prior to Wednesday's announcement, Laird told the Financial Post that a supersized hike to the tune of 75 points or even a full percentage point would do less to impact the housing market than the actual language in the monetary policy report and whether it provides more clarity as to the path of future rate hikes.
Article content
"One thing about this upcoming announcement is it's been … three, four weeks at least that the whole country has been expecting 75 basis points," Laird said a day before the rate decision. "It's not going to surprise anyone when it is 75 basis points. So, I think we've seen a lot of the reaction already in the last four to six weeks… What I'm looking for tomorrow is what they give us going forward as far as the language — are we nearing the end of the oversize rate increases?"
Laird added that he believed Canadian real estate markets have had the time to absorb the news of a colossal hike and does not anticipate any "knee jerk" reactions, assuming the hike is between 75 or 100 points.
"It's all about that forecast going forward as opposed to what specifically they do tomorrow," Laird said.
Article content
The Bank of Canada has already delivered three rate hikes since March: one 25-basis point increase followed by two 50-point hikes. The increases, coupled with strong messaging from central bank Governor Tiff Macklem telling Canadians to expect interest rates to rise further this year, have been working to cool housing markets across Canada —particularly in major cities.
It's all about that forecast going forward as opposed to what specifically they do tomorrow

James Laird, Co-CEO, Ratehub.ca
Toronto home sales plunged just over 41 per cent in June compared to the same month a year ago while Vancouver saw its sales slip 35 per cent in the same timeframe. Home prices have been declining at a slower pace in both markets since early in the year. The market slow-down has been largely taken as a sign that prospective home buyers are treading more cautiously.
Article content
For Canadians who have already pulled the trigger on buying a home, rate hikes have been making mortgages more expensive and a full percentage increase will further weigh on household balance sheets. Canadians with a fixed-rate mortgage will not see changes to their payments until their mortgages comes up for renewal, at which point they can likely expect to pay more than they originally signed on for.
However, variable-rate mortgage holders can expect to feel the pinch within a few months of a rate hike. A recent report from the Canada Mortgage and Housing Corporation found that more Canadians have been piling into these kinds of mortgages during the pandemic, driving variables' share of the market above 50 per cent.
Article content
Posthaste: Royal LePage cuts home price outlook 'significantly' on aggressive Bank of Canada rate hikes

Interest rates are still rising, but investors should start preparing for when they come back down

Bank of Canada raises interest rate: Read the official statement
A Canadian with a mortgage loan amount of $500,000 with a current variable rate of 2.85 per that amortizes over 20 years would have a monthly payment of around $2,735.
After a full percentage point hike brings that variable rate up to 3.85 per cent, the monthly payment would jump to $2,990. This means a Canadian in this situation could be paying $255 more a month or approximately $3,060 more each year.
Assuming an average variable rate of 1.60 at the start of the year, the combined cost of this year's rate hikes would be approximately $554 more per month or $6,648 per year.

Financial Post
• Email: [email protected] | Twitter: StephHughes95