National Day for Truth and Reconciliation honours those who died and the survivors of the residential school system in Canada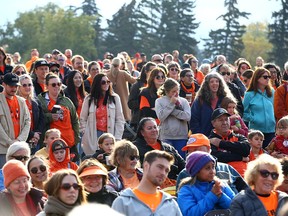 Article content
Siksika First Nation Elder Clement Leather gave a message of coming together to heal during the City of Calgary's Orange Shirt Day event at Fort Calgary on Friday.
Article content
The day also coincides with the National Day for Truth and Reconciliation and hundreds of people gathered at the park in that spirit. The day is to honour those who died and the survivors of the residential school system in Canada.
Article content
"We got to love one another," he said, with a flag inclusive of the more than 2,000 names of those who died in the residential system flying behind him. "We got to work together and I'm guessing this is one of the things that's bringing us together. What happened to our children at residential schools, the Creator wants us to work together to help one another to heal."
Leather, a survivor of the system, said the lessons taught by his grandparents before he was taken away from home at age four came back to him after he left the school and helped him find a way forward.
Article content
Canada's changing map: Reconciliation renames people, places, things to reflect Indigenous culture

Opinion: Why I'm hopeful for truth and reconciliation in Canada

Nelson: Reconciliation finds home with Alberta church repair
The city and the country as a whole have been working toward reconciliation since May 2021 when unmarked graves at the Kamloops Indian Residential School were discovered. In the following months, several other sites were discovered leading to a large public outcry and response from all levels of government.
The Orange Shirt Day event included a number of speakers, drummers, Indigenous dancers and traditional Métis dancers, and had a theme of Remember the Children.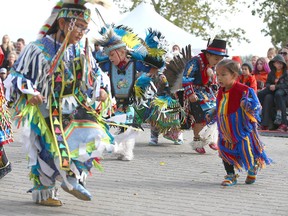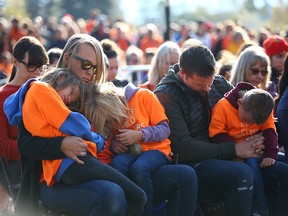 This is the second year the city has hosted this event at Fort Calgary. Mayor Jyoti Gondek said councillors and staff are "on a dynamic and difficult journey in leading our city at a time of listening to the truth and getting to the point of reconciliation."
Article content
Christine Arthurs, general manager of the people, innovation and collaborative services department, said the city is still working towards reconciliation and meeting the 94 calls to action established in the Truth and Reconciliation Committee report. This includes recognizing the value of healing practices (Call 22) through events like this, recognizing healing practices through Indigenous gathering places (Call 21), the establishment of the city's Reconciliation Plan, and the creation of a permanent monument to those who died at residential schools (Call 82). She gave no timetable on the latter two.
Elder Wanda First Rider has spent more than three decades working with the Calgary Catholic School District. She is a survivor of residential schools and talked about how they were starved and prevented from drinking water or using the bathroom at night. She heard about and witnessed sexual, physical and mental abuse.
Article content
"During that time, I would be wondering what's happening with my family," she said.
The schools attempted to strip Indigenous children of their identity by banning the use of their language and cultural celebrations and force their assimilation to a European way of life.
The result has been intergenerational trauma and a population that has been plagued by addiction and mental health crises while battling systemic racism and poverty.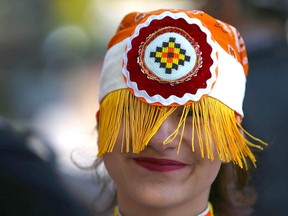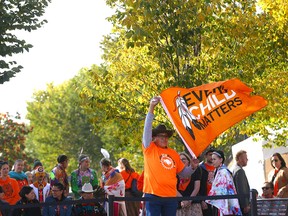 First Rider said she has always been permitted to smudge while working for the Catholic school board and these ceremonies are important, but she wants to see a bigger step being taken.
"We have to introduce our languages," she said. "Because if we don't speak our language, our way of life will be lost. And we've lost far too much as it is right now."
Article content
There were a number of other events held throughout the city, including a powwow hosted by Siksika Health Services and the Calgary Hitmen at the Saddledome. There was a screening of the film The Road at Grace First Presbyterian Church to learn more about the effects of residential schools and the missing and murdered Indigenous women and girls. Nakoda First Nation hosted a three-kilometre walk between McDougall Memorial United Church and the Morley United Church, near the former site of the Morley Indian Residential School. Meanwhile, the University of Calgary and Mount Royal University both hosted several events.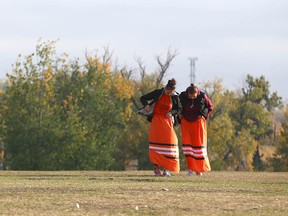 Crystal Chrétien, attending the Fort Calgary event with her two daughters, said it was important for her to bring them down to educate them about Canada's history and this movement of reconciliation.
"My generation, we weren't really taught about these things," she said. "With everything being uncovered, and it's really coming to light now, I think it really makes you question things. Question the past, question the future. What is it going to look like to kind of grow from this?"
Twitter: @JoshAldrich03