Contribute to the Gazette's West Island/Off-Island community calendar by email at [email protected]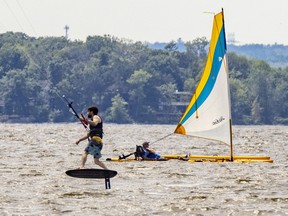 Article content
The Stewart Hall Art Gallery, 176 Lakeshore Rd., presents the Traversée/Crossing exhibition exploring the rich connection between watersports and contemporary art. Continues until August 28. Free. Call 514-630-1220.
Arts and Letters
Shakespeare-in-the-Park: All Shall Be Well 2022. Repercussion Theatre presents live theatre performances Thursday at Pine Beach Park in Dorval (cancelled if raining) and on Saturday at Parc À-Ma-Baie in Pierrrefonds (in case of rain Gerry-Robertson Centre, 9665 Gouin Blvd. W.) All performances are from 7 to 8:30 p.m. Free. Donations welcome. For more tour dates, visit repercussiontheatre.com.
Music
Baie-D'Urfé Summer Concerts presents Swing Tonique on Thursday at 7:30 p.m. at Fritz Bandstand on Lakeshore Rd. (parking available in the park on rue Carrière). Free. Bring your own chairs and umbrella.
Article content
MG3 Plays Ennio Morricone. 2022 Summer Concerts in the Park Festival on July 20 at 7:30 p.m. at Stewart Hall Cultural Centre, 176 Lakeshore Rd. in Pointe-Claire. Free. Call 514-630-1220, Local 1774.
Volunteers
Big Brothers Big Sisters West Island needs volunteers for this summers Montreal Ribfest being held Aug. 12-14 in Pierrefonds at 13665 Pierrefonds Blvd. Different positions available for all ages. Email [email protected]
ETC.
Outdoor neighbourhood market of seasonal fruits and vegetables from West Island farms organized by Marché de l'Ouest du Quartier on the following Wednesdays: July 20; Aug. 3, 17, 31; Sept. 14, 28 and Oct. 12 from 4 to 7 p.m. in the parking lot of the Bob Birnie Arena, corner of Maywood and Virburnum avenues in Pointe-Claire. Inclusive prices for all — you pay what you can. Or pay a little extra and help a family in need. Bring your own bags. For more information call 438-399-1097 or email [email protected]
Outdoor Valois market every Saturday (until Oct. 29) from 10 a.m. to 2 p.m. in the parking lot at 39 Donegani Ave. in Pointe-Claire. The mission is to promote local farmers, artists, entrepreneurs and community initiatives. Visit facebook.com/MarcheValoisMarket.
Article content
Groups and clubs
Pierrefonds Lawn Bowling Club meets on Monday, Wednesday and Friday evenings at 5020 Chestnut St. in Pierrefonds. Equipment and lessons available. No experience necessary. Some day games also available. Membership: $150 includes bowling from May-Sept. and post-season activities such as darts, cards, dinners and more. Call 514-718-5218 or visit facebook.com/Pierrefonds-Lawn-Bowling-Boulingrin-Pierrefonds-1776177476002165/.
Pointe-Claire Lawn Bowling is recruiting new members. Come by any Wednesday morning from 9:30 a.m. to noon at 17 avenue de Lourdes in Pointe-Claire (next to the curling club). Visit pointeclairebowls.com or email [email protected]
Seniors
Article content
Senior Men's Contract Bridge Club meets every Tuesday from 1 to 4 p.m. at the Edwin-Crawford Residence, 35 Maywood Ave. in Pointe Claire. Cost: $5. No partner or commitment required. Call 514-697-4159.
Self-help and support
Gamblers Anonymous.
Support and hope to those who are suffering from a gambling problem. Visit
gamontreal.ca
or call 514-484-6666.
The West Island Women's Shelter 
is a non-profit organization that helps women and children who are victims of domestic violence through the provision of shelter, accompaniment and psychological support. For more information, visit 
wiws.ca.
ABOVAS – An essential accompaniment towards health,
is a non-profit organization that offers accompanied transport for West Island residents going to medical appointments on the Island of Montreal. If you need assistance and would like to use our service, contact us for more details. If you have a few hours to offer, access to a car and would like to volunteer, call 514-694-3838, email
[email protected]
or visit
abovas.com
.