The census shows the city is "in the process of changing things to make them better for us, in the process of being aware," said Josine.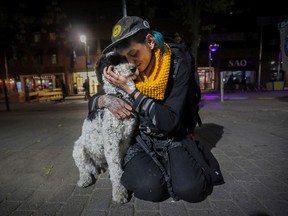 Article content
Clipboards in hand, about 1,000 volunteers combed the streets of Montreal Tuesday night to collect data on the city's unhoused population.
Article content
"We have teams everywhere — from east to west, from north to south," Caroline Dusablon, deputy director of urban partnerships with the CIUSSS du Centre-Sud-de-l'Île-de-Montréal, said ahead of the census. "We really want to quantify the portrait of unhoused people."
Article content
Volunteers gathered at the downtown YMCA before being split into groups and sent off into the night. The goal of the census — the third of its kind since 2015 across Quebec — is to evaluate the needs of the unhoused population to be able to adapt services accordingly. The last census from 2018 counted 3,149 unhoused Montrealers, including 678 on the streets.
"It's important to better understand how the phenomenon of homelessness manifests itself in our city — whether it's people who are on the streets, in the shelters or in different resources available to them," said Josefina Blanco, Montreal's executive committee member responsible for homelessness, who added she was participating in the effort as a citizen.
Article content
Blanco was part of a team that began collecting data in the Village. The group included Welcome Hall Mission CEO Sam Watts, Julie Grenier from Mouvement pour mettre fin à l'itinérance à Montréal and Jacques Couillard, associate CEO of the CIUSSS du Centre-Sud.
"Tonight is really a question of knowing not just the quantity of people … but also if the portrait of homelessness changed over the course of the pandemic, because the goal, really, is to help people find permanent housing," Watts said before heading out for the night. "It's not to establish more spaces in emergency shelters, because emergency shelters should be temporary places, not destinations."
Watts had predicted people would be waiting for volunteers to come by — "it's well known that tonight is the dénombrement," he said. His prediction seemed to be accurate: a handful of unhoused people were outside the Beaudry métro station and in the adjacent Parc Serge-Garant when the team arrived, and many of them agreed to participate in the census.
Article content
"People in most cases want to talk to us, tell us their stories — and they really have different paths," Blanco said. "We're here to listen to them, and we're also here to document to make sure we have a better comprehension of the situation, which will help in the decision-making afterwards."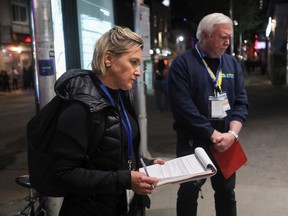 One of the people volunteers spoke to was Vishal Sharma, who found himself on the streets for about a year following a divorce. He said he was eventually able to find an apartment, but was evicted in September for housing some of the unhoused people he had met, who he knew could use the help.
"I'm feeling down," Sharma said. "I was not expecting that from my landlord — basically that he would not renew my lease. I was only helping these people out who don't have a home."
Article content
Sharma said that for a variety of reasons, he doesn't sleep in shelters — he sleeps in places like parks. He said he's been banned from one shelter for getting into a fight, and that many others only operate during the day.
Josine, who also spoke to volunteers, said she doesn't like sleeping in shelters either.
"Resources that accept dogs accept a lot of shit, so I don't go," she said, sitting outside the Beaudry métro station with her Aussiedoodle, Barbie, tethered to her waist.
For Josine, the census shows the city is "in the process of changing things to make them better for us, in the process of being aware — it's showing me they want to know what's up with us, homeless people."
"Finding out how hard it is … people wish you didn't exist, they avoid looking at you," she said, adding that when citizens do help the unhoused, it always seems to come with conditions.
Article content
"You have to pretend you're in a good mood and smile," Josine said. "That's why I go to cars. Panhandling at cars is easy — you don't have to talk, you just pass the hat and smile. The best sign I did for panhandling … said: 'About to die from lack of attention.' When you make them laugh, it will help the contact.
"In the end, all I want is a nice interaction with someone. I don't want to necessarily make friends, but good human contact. Sometimes I have conversations with citizens just to educate them … they are curious, they want to know what it's like to be on the street, where we go, what we do."
On Wednesday and Thursday, volunteers will continue collecting data in shelters and other resources for the unhoused.
"We had a really beautiful response," Dusablon said. "We were looking for 1,200 volunteers; there were 1,400 people who responded to our call."
Hanes: Homelessness census will draw a portrait of unhoused Montrealers

Lachine Canal camping event called off after outcry over 'double standard'

Hanes: Groups speak up for urgent needs of Montreal's unhoused