"The game was horrendous, but getting four points is a good thing. We're happy that we got the four points."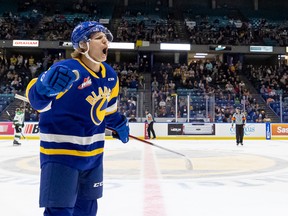 Article content
The weekend result was better than most season-opening weekends, often marred by numerous distractions, unpredictability and, ultimately, chaos.
Article content
The Saskatoon Blades managed to sweep the rival Prince Albert Raiders, spoiling the Raiders' home-opener before capping the weekend with an overtime victory in their own season home-opener in the Western Hockey League.
Article content
"That's the goal — you come in and try and get four points out of a weekend and now we have a week here to prepare for the following weekend and we'll get some guys back, which is good," said Blades head coach Brennan Sonne. "We'll get them integrated quickly. It's great to finish the weekend with four points."
The Blades played without some veteran forwards as Josh Pillar (Minnesota Wild camp) and Conner Roulette (Dallas Stars camp) are still in pro camps and Jayden Wiens and Egor Sidorov were sidelined by injury. They welcomed back defenceman Charlie Wright and forward Brandon Lisowsky from NHL camps.
Article content
The opening weekend included pre-game festivities and introductions, as well.
In Sonne's mind, that can add up to a little bit of chaos.
"For sure, there were a lot of guys out and guys are coming back and guys just came back and they don't know what we just practised and it is chaos," said Sonne. "It's a start — it's a positive start and four points. Now we just get better every day."
The Blades eked out a 2-1 overtime victory Saturday night before a crowd announced at 6,302 at SaskTel Centre when Tyler Parr pounced on a rebound with a fraction of a second left in OT.
"I don't think I've ever got one that close (to the buzzer)," admitted Parr, a second-year Blades forward from La Salle, Man.
"That was pretty close."
Lukas Hansen had the other goal Saturday for Saskatoon.
Article content
Hayden Pakkala scored the lone power play goal for Prince Albert, which went 1-for-6 with the man-advantage after going scoreless during a five-minute power play which included a 4-on-3 stretch to start OT.
"That was a crazy game," said Blades captain Aidan De La Gorgendiere. "We all stuck to the plan there. Our penalty kill was huge for us and we found a way to win a hockey game and we got four points and that was our goal to start with."
Austin Elliott made 24 saves in net for Saskatoon, which got outshot 25-16.
"We want two points every night," said Parr. "Every night's not going to be pretty, especially if we take that many penalties, that's not ideal. We battled hard. If we battle as hard as we can, we're never going to be upset with the outcome, especially if it's two points."
Article content
On Saturday, the Blades played in front of a huge crowd exceeding 6,000. A year ago, the Blades had 4,352 fans in attendance for their home-opener against the Moose Jaw Warriors.
'We knew there was a lot of people here, but, truthfully, most of the time you're really just focused on what you've got to do," said Sonne. "I don't think any of our players are taking time and, 'Oh, look at this.' We're in a big game and it's back-to-back nights and we're into it.
"That being said, seeing the building this full was fantastic. It's just too bad that was the kind of game that unfolded."
Max Hildebrand faced only 16 shots in the Raiders net along with a couple of shots that hit posts.
"It's good to get two points," admitted Sonne. "It feels good (to sweep the rival Raiders). That's what you want. The game wasn't good. The game was horrendous, but getting four points is a good thing. We're happy that we got the four points."
Coach Brennan Sonne expecting Blades to take a 'leap' forward

Blades beat Raiders with OT buzzer-beater by Parr
The news seems to be flying at us faster all the time. From COVID-19 updates to politics and crime and everything in between, it can be hard to keep up. With that in mind, the Saskatoon StarPhoenix has created an Afternoon Headlines newsletter that can be delivered daily to your inbox to help make sure you are up to date with the most vital news of the day. Click here to subscribe.