A week's worth of news releases from the Regina Police Service document alleged violence and tragedy in the city.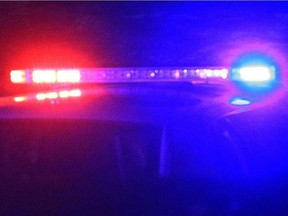 Article content
The week after a 13-year-old girl was arrested, having allegedly struck fear into staff and students at F.W. Johnson Collegiate with what was essentially a fake gun, police took another 13-year-old into custody.
Article content
The gun he had wasn't a fake. No, it was a sawed-off .22-calibre rifle.
Article content
That's according to the Regina Police Service, which sent out a news release stating just before midnight on Tuesday its communications centre received a call from someone who told them they'd been sent photos of a firearm.
On the 3800 block of Retallack Street, police say they located the sender of the photos, who was arrested on an outstanding warrant. "Further investigation" led officers to search a nearby apartment, where they found the gun and the teen, who was arrested without incident, a police news release states.
That 13-year-old boy, who can't be named in keeping with the Youth Criminal Justice Act, faces charges for possessing the gun, storing it improperly, possessing it for a purpose dangerous to the public, possessing it contrary to a court order, obstructing a peace officer, and breaching the conditions of a release order.
Article content
A police news release on that event states the man was arrested for impaired driving and was taken to the hospital for a blood test. As officers searched the vehicle, they say they found a crossbow and bolts for it. But that's not all.
Further, the release states officers found a shotgun, "well over 100 rounds of various firearm ammunition," and some meth.
The man faces weapons and drug charges, in an addition to a charge for impaired driving.
Report of gun inside school prompted F.W. Johnson Collegiate lockdown; ends safely

Crossfire: How guns get into the hands of some killers in Sask.
Also on Monday, a motorist was said to have struck an 11-year-old boy on a bike on the 2800 block of Elgaard Drive. Fortunately, a police news release states, his injuries were not believed to be life threatening. No charges were reported.
Article content
Tuesday, some hours before police seized the gun from the teen, officers were sent to the 1700 block of Ottawa Street where they found a 61-year-old man with "serious injuries."
"Preliminary information indicates an adult male suspect allegedly punched the 61 year-old victim in the head and body, then struck him numerous times with a gardening tool, before walking away," a police news release on the matter states.
Following an arrest in relation, a 60-year-old Regina man faces charges of aggravated assault and breaching probation.
On Wednesday, just before 10 p.m., police were sent to 12th Avenue and Broad Street to investigate after a truck allegedly hit a 45-year-old male pedestrian, whose injuries were treated on scene. Officers called out to stop a man seen walking to a nearby black Dodge pickup, but he hopped in and fled north, according to a news release.
Article content
The vehicle came to a stop shortly after a spike belt was deployed, and a 40-year-old man from Buena Vista was arrested and charged for a hit-and-run, impaired driving, refusing a breath demand and obstructing a peace officer.
And in the early hours of Friday morning, after being sent to the 1400 block of Rae street, police say they learned a 29-year-old woman had been shot. She was sent to the hospital for surgery, according to a police news release on the matter, which notes that, when it was sent out around 10:15 a.m., "the victim's injuries appear to be non-life threatening and she is in stable condition."
Anyone with information about that incident is being asked to contact the RPS.
The news seems to be flying at us faster all the time. From COVID-19 updates to politics and crime and everything in between, it can be hard to keep up. With that in mind, the Regina Leader-Post has created an Afternoon Headlines newsletter that can be delivered daily to your inbox to help make sure you are up to date with the most vital news of the day. Click here to subscribe.