Families such as the Tiutiunnyks will celebrate their first Thanksgiving — the holiday is not celebrated in Ukraine — while hoping for peace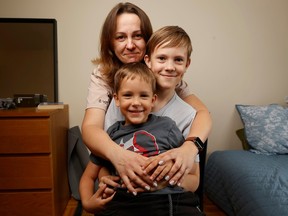 Article content
For Ukrainian refugee Oksana Tiutiunnyk and her two children, Kostia and Vlad, Thanksgiving is a new but meaningful holiday.
Article content
Tiutiunnyk, 37, arrived in Ottawa in June, four months after fleeing the bombs, blood and upheaval that announced Russia's lightning invasion of Ukraine on Feb. 24.
Article content
The family arrived in this country with the help of a volunteer group, Ukraine to Canada, launched by one of Tiutiunnyk's former classmates, Ottawa's Kostya Khomutov. The group helped arrange the family's travel to Canada, found them temporary shelter in Algonquin College's student residence then a one-bedroom apartment on Meadowlands Drive.
Tiutiunnyk is now working as a part-time seamstress while her children, Kostia, 12, and Vlad, 5, attend school.
She says she has much to be grateful for this Thanksgiving, her first such holiday, even while her homeland continues to fight and suffer.
Article content
"We are too far from our country, our house, our home, but we are grateful to the Canadian people," she says. "They have been very kind to us, very generous."
Tiutiunnyk said people have donated furniture, winter clothes, bedsheets and dishes to help the family manage its wait for peace in Ukraine.
She plans to celebrate Thanksgiving dinner with three other displaced families, and explain the holiday to their children since it is not celebrated in Ukraine.
Before being forced to leave, the Tiutiunnyk family lived in Irpin, just outside Kyiv. The town was the site of a pitched battle early in the war as the Russian Army attempted to encircle Ukraine's capital. The Tiutiunnyks hid in the basement of their apartment building during the worst of the fighting and fled to the southwest when they had the chance.
Article content
Tiutiunnyk's husband stayed in Ukraine after the family received their visas and departed for Canada.
More than seven million Ukrainians have now left the country in what's being called the largest refugee crisis in Europe since the Second World War.
The Ottawa-based Ukraine to Canada organization has helped 100 Ukrainian families settle in this country.
Its founder, Kostya Khomutov, 38, an aerospace engineer and entrepreneur, was born in northeastern Ukraine, about 50 kilometres from the Russian border, and moved to Canada as a teenager. He said he could not sit idly by as he watched the merciless Russian onslaught unfold on TV.
He reached out to friends, relatives and former classmates, including Tiutiunnyk, whom he knew from his hometown, Okhtyrka, and offered to help bring them to Canada. When he heard about another Ukrainian-Canadian in Ottawa doing the same thing, they joined forces and started to raise money.
Article content
Ukraine to Canada now has more than 20 volunteers who help to co-ordinate travel, housing, jobs and other support for Ukrainian families. The group has raised $100,000 and partnered with Ottawa Jewish Family Services to administer that financial aid to Ukrainian families.
Khomutov said Ukraine to Canada is still seeking more people willing to host refugees and more employers willing to hire them. "These are highly skilled, educated people coming into the country," he said.
Retired federal public servants Sharon and Brian Irwin wanted to do something more than donate money after watching Russian forces bomb Kyiv. The couple worked in Ukraine as part of Canada's diplomatic mission there between 2016 and 2019, and grew to admire its people and culture.
Article content
"I'm from the East Coast and I felt there was a similar warmth with strangers in Ukraine: They're very generous people," said Sharon Irwin. "I was in shock and disbelief when the Russians invaded."
Searching the internet for ways to help, Irwin came across Ukraine to Canada and volunteered to host a refugee family. A single mother from a small town near Kyiv, Iryna, and her 12-year-old daughter, Anya, arrived in Ottawa in early September and are now living with the Irwins in Bridlewood.
The family escaped the Russian bombardment of their home, fled to western Ukraine, and spent six months waiting to be relocated.
The Irwins have helped them with everything from OHIP cards to school registration.
"They've settled in really well," said Irwin. "We're having big a crowd of 10 people this weekend so they can experience Canadian Thanksgiving with some Ukrainian flavour."
The celebration will be bittersweet for Iryna and Anya, whose country remains under threat both from Russian forces and its nuclear arsenal. Russian President Vladimir Putin has threatened to use tactical nuclear weapons to defend Russian territory.
"I think if they could go home tomorrow, they would," Irwin said. "Right now, there's just a lot of uncertainty, but we've told them we're here as long as they need us."
EXPLAINER: Where Ukraine war stands after 6 months

Canada has no way to track weapons donated to Ukraine despite concerns arms could end up on black market