"It's a living hell," says neighbourhood resident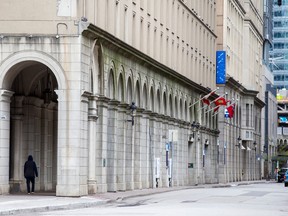 Article content
For the past year, Bibhu Acharya has served behind enemy lines.
Article content
Not in Ukraine or Afghanistan but in The Esplanade in downtown Toronto.
Article content
"This is a war zone," said one resident.
Guns, knives, fights, drugs and even dog fights have been the reality since the once four-star Novotel was converted into a homeless shelter to help deal with the COVID-19 pandemic crisis.
"It's a living hell," said one neighbour in a condo building nearby. "I am scared to go out at night."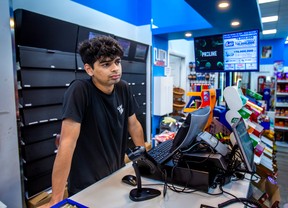 This was a common theme from those who live there. Having endured anarchy with no clear end in sight, they are afraid to offer their names.
"We have to live here," said one woman.
Acharya has to make a living.
"It's stressful," he said of having to deal with bad behaviour and stealing.
One bartender in the highly affected restaurant and bar scene said "there's always action here," which means fewer families frequenting the once-desired dining destination.
Article content
Many in this shelter are known to police.
"I did time in Collins Bay and Kingston Pen," said a shelter resident Adam, adding, "I was charged with two murders. He says he was only convicted of one.
Adam said he understands how the residents feel about the trouble from the building and has sympathy for them. But, he said, he also needs a place to live with programs to help him curb his drug dependency.
Married couple Michael and Shelley say without the city's shelter program they would not have any roof over their head and would likely end up on the street or in a park where nobody wants to see homeless encampments either.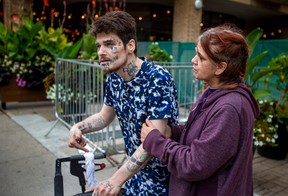 "There are good things and bad things" about it, said Michael.
One of the bad things is the amount of drug dealers in and around the location. However, Shelley said the good things including having "food in our belly" and a "working shower and toilet and a bed to sleep in."
Article content
There are different perspectives. Michael and Shelley's is important. But so is the one from the people who pay so much to live in this once bustling and desired area. Neighbours fear there is no end game.
Toronto spokesperson Brad Ross tells the the Sun that while the lease at 45 The Esplanade expires Dec. 31 there is an option to extend it until April 30.
There are rumours from all sides, ranging from the old hotel being torn down in favour of two condo towers, to the hotel coming back online, to the shelter being extended for up to three more years.
"We cannot speak to the status of a possible lease extension as discussions with the landlord are ongoing," said Ross.
What else continues to go on are the regular police calls to the area and human tragedies on full display with people struggling with addictions, mental health issues and physical wounds.
Article content
This means people are looking for money to feed those cravings.
SOLUTION OR PROBLEM?: Residents says neighbourhood a shadow of former self due to Esplanade emergency shelter

LILLEY: City's woke intentions change neighbourhood for the worse, leave residents unsettled

LEVY: Esplanade patios brace for opening across from homeless shelter
"My restaurant was broken into twice and someone kicked in the windows," said one owner nearby. "There have been 52 businesses who had similar things happen."
Another story I heard was of a car being broken into and a laptop stolen from a prominent media member who was able to ping his homing beacon and locate it to a room inside the old Novotel. Security convinced the alleged thief to hand it back, but most stories don't end that way.
The police blotter shows constant trouble in the area and residents say they don't get return calls from the mayor or council members when they complain.
Acharya said it can be scary working in this environment.
"I don't want to face their disgusting acts," he said, adding a "lot of people don't want to come in here."
The front lines of a war is no place to bring a family.