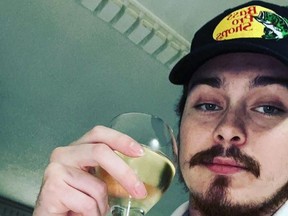 Article content
The call to South Simcoe Police Service came from a grandmother who was asking her grandson be removed from her home after causing a disturbance.
Article content
Originally, this was not a gun call. But there are no routine police calls.
Article content
The next call was a chilling one: "Two officers down."
"They were ambushed," said a police source.
The call in the 8 p.m. hour on Somers Blvd. in Innisfil was responded to by at least two officers, who were dealing with a 23-year-old grandson who was allegedly "smashing" items inside the home after a family dispute and had gone downstairs to the basement.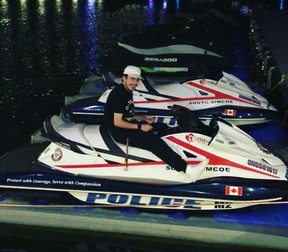 Gunfire erupted and two officers were struck by a suspect who, sources say, pulled a sneak attack.
"The gunman was hiding behind a door," said a source.
They didn't have a chance. Both officers were murdered.
Also being investigated is the participation of a third South Simcoe officer at this scene.
Article content
"There was a third responding officer," said SIU spokesperson Kristy Denette, adding the "investigation is in its preliminary stages" and "no designations have been completed at this time."
Sources say the third officer is an officer with two years of experience. It is not clear if he used lethal force.
The officers who died were Const. Morgan Russell, 53, a 33-year veteran and six-year veteran Const. Devon Northrup, 33, who was part of the community response team.
Police sources confirm the grandson was Chris Doncaster. Sources tell the Toronto Sun that the home in which the shooting took place is owned by his grandparents who also have the name Doncaster.
York Regional Police have taken over the homicide investigation end of this case while the SIU focuses on its mandate of determining the police's use-of-force decisions. It is unknown exactly how this incident played out. Did one of the two slain officers shoot the suspect or did he kill himself following shooting? That's among many unanswered questions.
Article content
The 23-year-old's background remains a mystery, as does what might have motivated the carnage. Sources say an SKS assault rifle, which is an unrestricted semi-automatic weapon designed originally in the former Soviet Union, was recovered. It's now "made in Russia and China and other countries," said a police source. "It can shoot through police body armour."
These are dangerous times for police officers, who have experienced the second surprise attack shooting in a month. Exactly a month ago Toronto Police Const. Andrew Hong was snuck up upon and shot by a man who later shot four more people, two of them fatally.
With these two fallen cops, Ontario will have had four police funerals in a month, including that of York Regional Police Const. Travis Gillespie, who was killed in a head-on collision involving an alleged drunk driver. Unacceptable.
Article content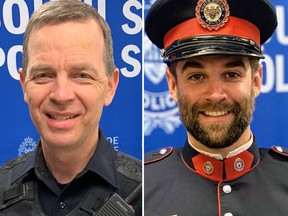 South Simcoe Police Chief John Van Dyke said his service is devastated and it is "personal for me" since he went to police college with Russell.
Once the report comes out, there will have to be a crisis meeting at all levels of government to deal with all the factors creating this scourge including sentencing, bail, drug use and trafficking, mental health and gun smuggling. Ontario will also have to re-evaluate how police respond to calls and travel in uniform in public.
'IT'S SO SAD': Two South Simcoe Police officers killed in Innisfil shooting

HUNTER: No place is safe as murder now moving into our small towns
For now, the province mourns the deaths of two more fallen officers. They do it angrily. There is no longer a routine domestic call or trip or coffee run.
"Far too often this is the scene with flags lowered to honour those killed in the line of duty/murdered while serving and protecting others," said Halton Regional Police Chief Steve Tanner.
One thing Ontario can't allow to become routine are police officers being killed in the line of duty.