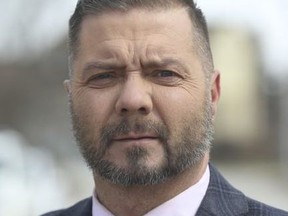 Article content
For Steve Ryan, standing at a homicide scene is nothing new.
Article content
During his 30-year career as a Toronto Police officer, he investigated 100 murders.
Article content
After retiring in 2017, he joined CP24 as a crime analyst, which requires him to attend more murder scenes than he did while serving as a homicide detective.
For 14 years, Ryan was the guy who walked by the reporters and under the yellow police tape. Now he's the one with the microphone questioning today's homicide officers.
Unlike most reporters, he has special insights. As a columnist who covered Steve when he was a cop and now works with him as a fellow reporter, I make it a point to speak with him when we're at a homicide scene. He always knows something I don't know.
However, Sept. 15 was different. We were standing outside a Tim Hortons in Mississauga where Const. Andrew Hong was shot and killed at close range by a gunman who also went on to shoot four other people — two fatally.
Article content
It was horrific.
Before that happened, we were focusing on me writing a column about Steve and his new book, The Ghosts That Haunt Me, published by Dundurn Press. We had plans to sit down and do an on-camera interview.
Then Hong was murdered.
"It just seems meaningless now," he told me about promoting his book.
Recommended video
Hong had a wonderful wife, two great kids, and a loving mom, dad and two sisters. Having served as a police officer for 22 years, Hong was targeted just because he was a cop. The 48-year-old was merely picking up coffee for fellow officers he was training on the motorcycles nearby.
It's every cop's worst nightmare.
"Devastating," Steve told me.
And yet, in his new role, he had to cover this. We agreed the column on the book would have to be put on hold. We both forgot about it.
Article content
But when one of my editors suggested I finish this column, I agreed that it's vital to not let a killer destroy everything.
The Ghosts That Haunt Me is also important to me, since I wrote the foreword for the book. It was an honour to do so because I have known Steve, who, while on the police force, worked stints as a beat officer and in the sexual assault squad as well as the homicide unit, for all the decades I have been working at the Sun.
I always think of these detectives as sort of super human, but when reading this book — which focuses on six cases that deeply affected Steve — you really see how these cases personally impact the officers who solve them.
"Every case I worked hurt me in an irreparable way," Steve wrote in the book. "Even years later, I'm still attempting to recover from the horrible things I've seen and the trauma I experienced in the process."
Article content
In his book, he recalls the horrors of the abduction and murder of 10-year-old Holly Jones, the disturbing manipulation by two "monsters" who killed his colleague's daughter, Stefanie Rengel and the nightmare and devilish slaying of Dr. Elana Fric-Shamji by her neurosurgeon husband.
They are all stirring chapters.
If you like true-crime books, this one does not get any truer. No spin. Just an inside look at the hell of homicide.
Investigating these kinds of things, Steve says in the book, makes a person untrusting and feeling "nobody is safe from the evil lurking among us" and there is "no way to know when someone with fatal intentions enters your life."
Sadly, he's been proven right.
Standing where Hong was ambushed in a cowardly sneak attack brought it all home to Steve, whose first book was coming out the next day. He should have been excited about it. He should have been enjoying the moment.
He couldn't.
"It doesn't seem important now," he told me.
Ryan has ghosts that haunt him, but he's also the guy who makes sure no one ever forgets them.