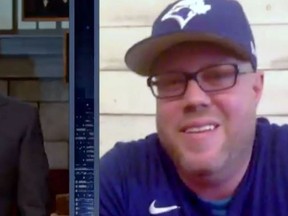 Article content
Days later and the guy seen on video coming so close to catching Aaron Judge's historic homerun ball is still kicking himself.
"I am still sick to my stomach," he tells me. "I keep rewatching it and I can't figure out how I missed it."
Article content
Kyle Mulligan may not have caught the record-tying homerun ball but on his appearance on Jimmy Kimmel Live! Friday he hit it out of the park.
"How do you feel today?" the legendary late-night comedian asked the Hamilton native.
"Terrible," he said with a giant grin and a great laugh.
Not only did he think when Yankee slugger hit that ball out toward the Rogers Centre stands Wednesday he would catch it, he had planned to be there to do just that.
"I went to that game thinking I was going to catch that ball," he told Kimmel.
Almost.
Article content
In a Thursday column with photographer Jack Boland, we tracked down the other guy in that video who also went for the ball and came close as well. That was Toronto restaurateur Frankie Lasagna, who Mulligan teased on the show was part of the reason he didn't catch the ball that might have been worth six figures and helped the electrician put his kids through college.
"Frankie Lasagna, the guy that everybody thinks I am, bumped my glove a little bit and I missed it by two inches," he told Kimmel.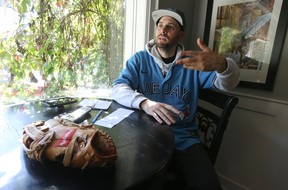 Lasagna has invited Mulligan and his family to his Terrazza restaurant on Harbord St. for dinner where they can eat some pasta and pizza and cry in their beer together. I will be there to take a picture when that happens. I think they will have a ball.
Article content
Meanwhile, Kimmel offered the best laugh by offering Mulligan the gift of coming to New York City on New Year's Eve to see the famous Times Square ball drop — full pun intended.
Another neat thing is fresh off calling the Blue Jays clinching a spot in the playoffs, broadcasters Dan Shulman and Buck Martinez have invited Mulligan up into the booth to have some more fun with this guy who, like Lasagna, has become part of the folklore of the Toronto Blue Jays and Canadian baseball history.
Mulligan doesn't mind that they were teasing him so much on the broadcast when it happened because, like he was doing in the seats just after missing the ball, he's still beating himself up, too.
"Inches. That's what hurts the most," he said. "I am a ball player and the biggest rule of thumb growing up (was), if your glove touches it, you should have had it."
But that said, he's still hitting out of the park in media appearances and there's always next year.