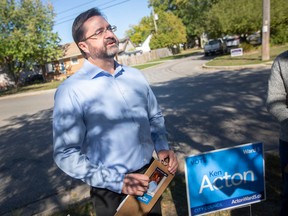 Article content
Careless driving on major thoroughfares and residential side streets in Ward 5 is top of mind for one city council candidate.
Article content
Ken Acton, a third-generation Ward 5 resident, this week shared his plan to address road safety with traffic calming measures and to transform the area into a walkable community.
Article content
While door-knocking, Acton has heard from residents concerned about speeding, drivers who roll and blow through stop signs, and ultimately pedestrian wellbeing. Parents on Central Avenue have said they won't let their children play on their front lawns because of reckless drivers.
"There are actions we can take to curb this behaviour, to create safer streets for everyone involved — streets that move both vehicles and people, but in a respectful and safe manor," Acton said.
Standing at the corner of Central Avenue and Guy Street, Acton said he will advocate for enhanced crosswalks, crosswalk lighting, rumble strips, reduced speed limits, and changes to street design. All the while, numerous vehicles rolled through the busy four-way stop behind him, and pedestrians appeared to hesitate before crossing the road.
Article content
"If elected to city council, I pledge to champion the issue of safe and equitable streets," he said. "I pledge to be a voice for the people and push to implement upgrades in our infrastructure that create walkable communities, accommodating multiple forms of transit.
"Our streets should be safe for our users regardless of age, ability, income, ethnicity, and mode of travel. They should encourage us to interact, socialize, and build community."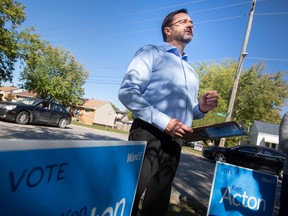 Acton is a professor at St. Clair College teaching architectural technologies, sits on the executive of the Windsor Regional Society of Architects, and is a board member for the Windsor Essex Community Housing Corporation. He is one of about three dozen honourary members of the Ontario Association of Architects.
Article content
Unofficial candidate list for 2022 Windsor municipal election released

Advance voting to begin for Windsor municipal election
Joey Wright, who garnered nearly 31 per cent of the vote in Ward 5 four years ago and runner-up to Ed Sleiman, endorsed Acton this week.
"We deserve to have someone representing us at city hall that can quickly and effectively adapt to these constantly changing times," Wright said. "To unseat an incumbent, it requires everyone to come together behind one single candidate — an independent, free-thinking voice who has knowledge, the skill set, and the ability to build on our roots and make the important decisions to lead our ward into the future … I believe that person is Ken."
The other candidates running in Ward 5 are Caitlyn Desmarais, Alessandro (Alex) Didone, Ed Sleiman, Currie Soulliere, and Richard St. Denis.
Election day is Oct. 24.