Local media, large and small, is an investment for its community. And it invests in that community as well.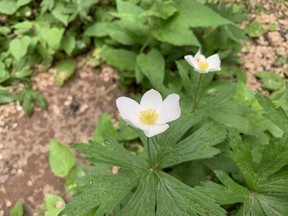 Article content
I wonder sometimes why low-flying birds don't fly right into street signs.
Article content
Do they learn it early, that last-minute sharp-angle tilt, that critical dodging change in the angle of attack? Do they sometimes make early mistakes? Or is the dodge just instinct?
Saskatchewan, still in its spring green, before it eventually shifts to the full August fade, now still the vast variety of greens too many to name. I watch white wood anemones get struck by individual raindrops, the way the flowers shudder, lean, stagger, then shed the wet weight.
The hiss of the rain, and the smell of it in the air. Windows thrown open all over the house, letting out the stale air of a hot Saturday.
And what a hot Saturday — out to the river, down the bank and into the water, knee-deep in the cool and staring down through clear water at the endless patterns of sand ripples on the bottom that echo, somehow, the ripples of the water's surface.
Enough rain now to reach the drainpipe tipping point next door, that distinctive aluminum clatter.
A teenager, too-long-armed and sudden-tall and gangly awkward, walks by with, of all things, a bag of frozen cherries. To be that age again, that combination of false bravado thrown like a blanket over sheer and constant embarrassment.
The yard lady across the street is cleaning up elm seeds with a snow shovel — she's thorough about every aspect of her yard, but there's a tree growing out of the valley of her roof and the rain gutter.
People rarely look up. And maybe she knows it's there. It is easier, I know personally, to go up a sharp-peaked roof than it is to come back down, and sometimes, once up, the idea of staying on the roof forever seems like a solution.
Article content
Why am I telling you all this? Because it's here. All around us. Because it's familiar. Because you can gather it up in your head from these words.
You might even be able to echo-locate it a bit — feel the words resonate with your own experience. Directly, if you live in or near Saskatoon, and maybe a little less so in Regina and environs. Even in Regina, you'd know the feeling, for sure, without sharing the dates on the calendar. But it would still be close.
And that's what local media actually is.
Columnist Phil Tank is in Saskatoon, in the StarPhoenix and the Leader-Post and also on Twitter, watching beavers course the South Saskatchewan River and Robertson's ground squirrels dart, whistle and duck into burrows.
Murray Mandryk, love him or hate him, is Murray Mandryk-ing all around the legislative precinct for both papers, making occasional friends and enemies as plentiful and frenetic as, well, Phil Tank's ground squirrels.
But the important point is that they are both here. 
And Google is not. Your friends on Facebook may be here as well, but Facebook itself is far away.
I learn more every day about how pieces connect here, and I learn it from people at two newspapers who know this place intrinsically.
People who know how politics, neighbourhoods and even historic families weave together. Journalists who you could hand a pencil and paper, and they would draw a map of internecine Saskatchewan connections as complex as The Lord of the Rings.
Article content
We can't do everything or tell every story. At this point, we're just not that big. 
But what we can do is to write about here. And in the process, we invest in telling about here — when a court publication ban blocks the release of information, local media fights it.
Facebook doesn't care; they take the available ad dollars and move along. When we travel around the province to do stories, we pay for it. Google's only hitching a free ride.
Local counts.
I describe what the rain smells like, and you know what I mean because you smell it, too.
And that's important.
Russell Wangersky is the editor in chief of the Saskatoon StarPhoenix and the Regina Leader-Post. He can be reached at [email protected]
Want to know how we decide what to cover and how editorial decisions are made at the Saskatoon StarPhoenix and Regina Leader-Post? Get the weekly Letter From the Editor newsletter from the Editor in Chief Russell Wangersky and join the discussion on what goes into covering news and delivering commentary, both in print and online. Click here to subscribe.